Why William Kentridge's New Art Incubator Encourages Artists to Fail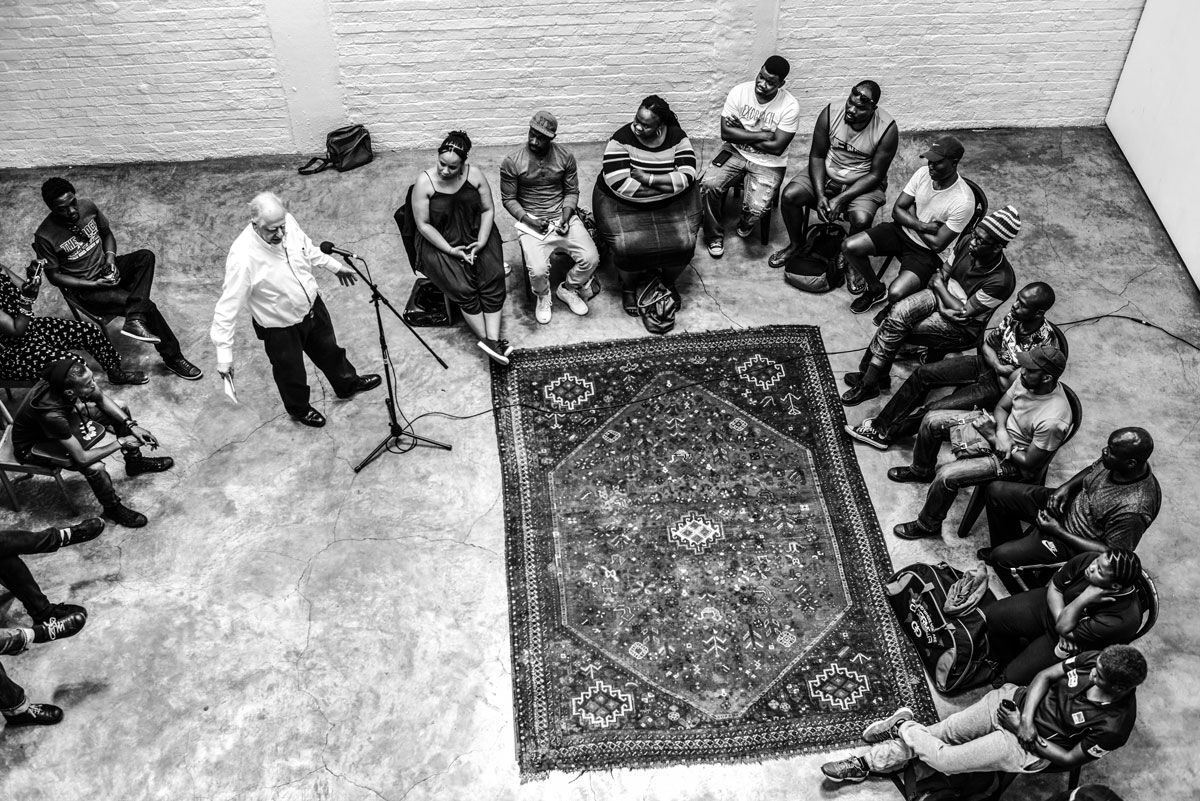 William Kentridge introducing the Centre. Photo by Stella Olivier.
The well-worn adage "kill your darlings" should be familiar to most aspiring writers. The principle at the heart of it could easily be extended to all creative practices: Be ready to throw out ideas or language you hold dear and make way for whatever lies on the periphery of your imagination.
Enter
Based on the eastern edge of downtown Johannesburg, the Centre hosts intensive, experimental workshops with artists, curators, and performers of various disciplines, which take place over the course of several months and culminate in a festival of evening events. (In keeping with Kentridge's own richly multidisciplinary practice and fascination with process, there's an emphasis on performance across the program.)
Performance by Ntsoana Dance Company. Photo by Stella Olivier.
"The conversation started with five people around a table," says Bronwyn Lace, one of the Centre's organizers, or its "animateur," as she's called in Kentridgian parlance. The goal was to be "a space that holds the in-between, the commercially unviable, the short form, the stupid idea," she says.
The program is currently invite-only. A group of curators were invited by Kentridge and Lace to recruit artists from Johannesburg and broader South Africa. Not only is the program free, but all the participants are paid for their involvement. The cohort of artists (which grew to about 90 in the first season) works together in breakout groups that take the form of open, freeform workshops toward the goal of presenting work at the finale.
The center privileges process over resolution, substance over flash. Its founding tenets grew out of months of research, in which Lace put together "a picture of the needs and desires of practicing artists in South Africa." What they discovered was a considerable gap in funding opportunities.
Outside of Johannesburg's commercial gallery scene, which is dominated by a handful of entities (such as
Goodman Gallery
, which represents Kentridge), there are particular pressures that go hand-in-hand with the country's post-apartheid conditions—namely, the pressure for art to demonstrate its social value. The reality for artists, Lace says, is that in order to qualify for grants and public funding, they must prove the positive social impact of their art and incorporate a community-based outreach program of some kind.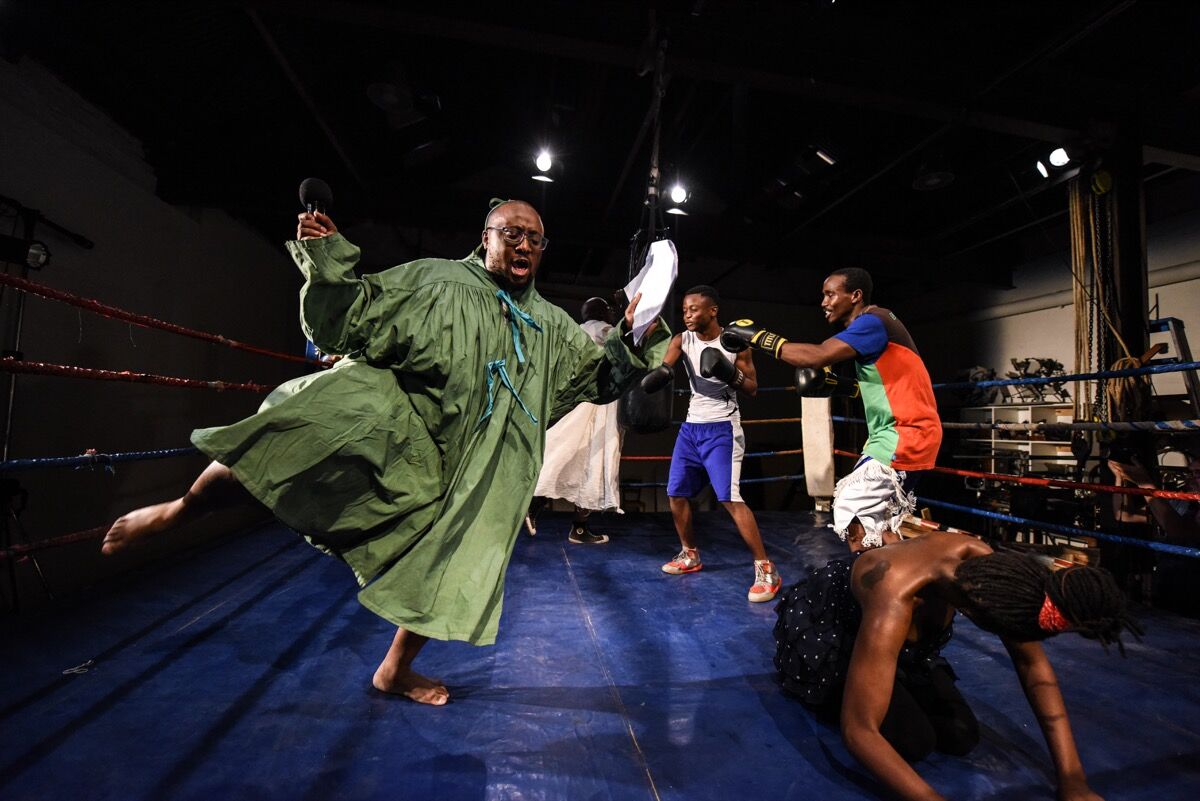 Performance of In the Ring in collaboration with The Hillbrow Boxing Club. Photo by Stella Olivier.
"Those things are incredibly important," she says, "but we feel that it's a little bit the cart before the horse. There's a sort of inherent mistrust, then, in the function of art—in that, as artists we believe that making art has us challenging our thinking, and seeing the world differently. And that's inherently valuable."
As a result, the Centre for the Less Good Idea hopes to create an environment in which artists are driving the ideas and setting the terms—rather than the more audience-led model that a primary emphasis on social engagement supports. Still, the experimental ethos has led to projects with a very clear and powerful engagement with South Africa's present and social past.
Those include a collaboration between some of the artists and the local Hillbrow Boxing Club. The club was founded by George Khosi, who learned to spar in prison and went on to handcraft his own boxing ring and train children off the streets. "He's one of these exceptional human beings," says Lace. "It's this crazy, beautiful space that pushes back against xenophobic violence. I thought, what if we take the ring as this object that holds the blood, sweat, and tears of people living in one of the most dangerous areas of Johannesburg?"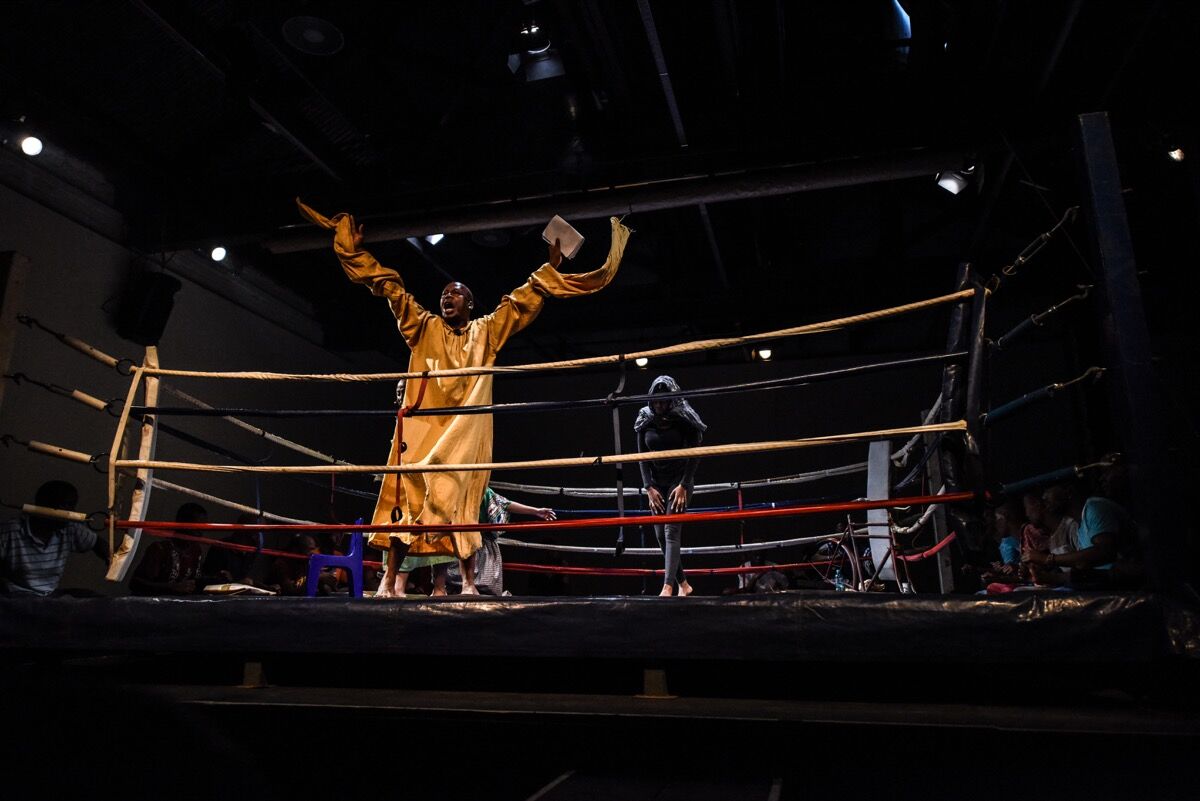 Performance of In the Ring in collaboration with The Hillbrow Boxing Club. Photo by Stella Olivier.
The curators of the first season at the Centre had already explored a notion that they should place "a strange, potentially foreign element" into their process. So, a ring from the club was installed in the Centre as a stage for performance, and members of the club were invited to initiate a workshop. The collaboration culminated in an actual boxing match that took place as part of the end-of-season festival. ("There is movement, discipline in boxing," says Lace, addressing the curiosity of placing a sports ring in the context of art performances.)
Another work involved a collaboration with a choir that practices Isicathamiya singing, a traditional Zulu form of music that was adapted in male mining hostels during the height of apartheid oppression. The word isicathamiya translates into sing soft, step light, says Lace. During the period it was developed, black people were not allowed to gather in groups of more than 15. To maintain their musical practice unnoticed, the men would translate the music into a low throat whisper.
At the Centre, a choir of 11 men worked with contemporary dancers to create an ensemble piece. "We knew it was very special," says Lace. "What I didn't anticipate was the reaction from the audience, which was unbelievably powerful. We had many men break down and say it captured the complexity of male identity and male-to-male relationships that are often on this knife-edge of intimacy and violence."
Dancers Xolisile Bongwana and Thulani Chauke rehearsing Requiem Request, a piece conceptualized by choreographer and co-curator of Season 1 Gregory Maqoma in collaboration with iscathamiya choir, Phuphuma Love Minus directed by Nhlanhla Mahlangu. Photo by Stella Olivier.
The Centre's approach has also led to performance vignettes that capture the essence of what the program is about: being unafraid to fail. Lace described one young artist growing frustrated and morose when his idea—to create a filmic homage to famous sculptors, set in a ceramics studio—was not developing into an interesting work. In response, Kentridge took a clay pot and placed it over the would-be filmmaker's head.
"It was just this playful moment," says Lace. "The artist immediately grabbed it and started sculpting it on his head. It became a video piece that he called Make Myself Anew, about a younger artist's angst collapsing his process and a seasoned artist like Kentridge saying, 'You've forgotten to have fun.'"
It's these moments—the unanticipated, the collaborative—that, the Centre believes, are often the seeds of fruitful ideas.
"Our work is about creating the right environment, the flexibility and spirit, and also holding the heaviness that comes with logistics and fundraising," says Lace, "removing those pressures from artists for a while so that they can have freedom to play."
—Tess Thackara
Marc Quinn Iris
Explore the cup collection here.
Sponsored by illy