Visual Culture
9 of the World's Top Architectural Pilgrimages, from Chandigarh to Fallingwater
"It is alarming that publications devoted to architecture have banished from their pages the words beauty, inspiration, magic, spellbound, enchantment, as well as the concepts of serenity, silence, intimacy and amazement," Mexican architect Luis Barragán mused in 1980. He was accepting the preeminent architecture award, the Pritzker Prize, which honored Barragán for his "commitment to architecture as a sublime act of the poetic imagination" and his "gardens, plazas, and fountains of haunting beauty."
Barragán is one of a host of pioneering architects from around the world whose ambitious, transporting designs draws visitors from overseas every year. Below, we explore nine of the world's most unique architectural pilgrimages, from Barragán's own colorful home, hidden behind a grey wall in Mexico City, to Friedensreich Hundertwasser's enchanting spa, tucked into the Austrian countryside.
Hotel Rogner Bad Blumau, Austria
Architect: Friedensreich Hundertwasser
Built: 1997
Photo by Intentionalart, via Creative Commons.
Austrian painter and architect Friedensreich Hundertwasser loathed straight lines, which he famously derided as "tool[s] of the devil." Indeed they are nowhere to be found in his most ambitious project, Rogner Bad Blumau, a fairytale compound tucked into the rolling hills of the Austrian countryside. Each of the property's more than 20 structures that snake across the landscape are spangled with charmingly uneven windows, colorful patchwork facades, grass-coated roofs, and bursts of sparkling mosaic. The hotel and thermal spa doubles as a complete expression of Hundertwasser's passionate design theories, laid out in manifestos like "Mouldiness Manifesto against Rationalism in Architecture" (1958). In it, he insisted: "We should reject any modern architecture in which the straight line or the circle have been employed...The straight line is not a creative line, but simply a reproductive lie. In it there live not God and human spirit, but a mass created, brainless ant addicted to comfort."
Brasilia, Brazil
Architect: Oscar Niemeyer
Built: 1956–1960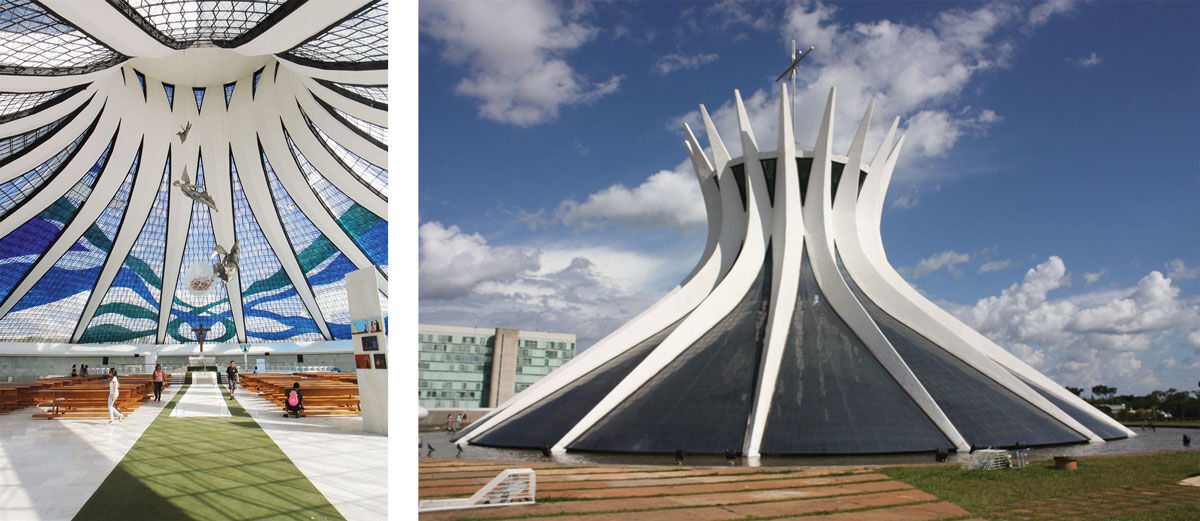 Left: Photo by Frank van Leersum, via Flickr. Right: Photo by Arian Zwegers, via Flickr.
Oscar Niemeyer's sketches for the buildings he designed as part of Lúcio Costa's plan for the city of Brasilia showed nude women sunbathing on a grassy esplanade in front of space-age structures. It was this sort of utopian vision that inspired Niemeyer's entire body of work, which sees its apex in the numerous edifices he created for this central Brazilian city in the 1950s. Amongst the most spectacular of the group is his swooping, spiney Cathedral of Brasilia; its trademark white tines arc into the sky towards a cross at the building's crown. Across the city's central plaza, another Niemeyer masterpiece—the National Congress—embodies the famed modernist architect's signature style, in which undulating elements disrupt an angular core.
Las Pozas, Xilitla, San Luis Potosi, Mexico
Architect: Edward James
Built: 1962–1984
Photos by Pavel Kirillov, via Flickr.
Eight hours north of Mexico City, deep in the rainforest that covers the Sierra Madre mountains, the millionaire poet, amateur botanist, and eccentric Edward James lovingly forged his surrealist sanctuary Las Pozas over the course of 22 years, from 1962 until his death in 1984. Described by James as his "Surrealist Xanadu," the vast property, which he acquired with a substantial steel and railroad inheritance, is embedded with monumental stone sculptures that look part-ancient relic, part-dreamscape. Like an M.C. Escher drawing, Las Pozas's moss-covered staircases lead into the sky, and its concrete arabesques merge with the foliage they mimic. During James's life, the paradisiacal retreat saw visits from his cohort of artist friends, like Surrealist painter Leonora Carrington. Today, it remains a site of pilgrimage for artists, architects, and eccentrics alike.
Chandigarh, India
Architect: Planned by Le Corbusier, with buildings designed by Pierre Jeanneret, Jane B. Drew, and Maxwell Fry
Built: 1951–1970
Left: Photo by Hector Pei, via Flickr. Right: Photo by Fernando Stankuns, via Flickr.
Several years after India gained independence in 1947, then-prime minister Jawaharlal Nehru hired Swiss architect Le Corbusier to concoct a city that would reflect the country's newfound freedom. Le Corbusier, by then known for his grand architectural visions, broke ground on Chandigarh, 240 kilometers north of New Delhi and adjacent to the Himalayan foothills, in 1951. It was believed that he took on the project (for much less than his normal fee) "as a way of justifying his theories," as the New Yorker claimed in 1955. With the help of fellow architects Maxwell Fry, Jane B. Drew, Pierre Jeanneret, and a team of Indian architects and planners including M.N. Sharma, Le Corbusier realized his plan for Chandigarh, a "Garden City" organized on a grid and punctuated with public space. Today, the city's best-known buildings—the Palace of Justice, the Palace of Assembly, and the Secretariat—are crumbling and guarded by a cohort of armed policeman. But they remain icons of Brutalist architecture and Le Corbusier's game-changing design theories.
Arcosanti, Arizona
Architect: Paolo Soleri
Built: 1970–Present
Left: Photo by sheldonschwartz, via Flickr. Right: Photo by traxus4420, via Flickr.
Arcosanti, a city of sci-fi proportions designed by Frank Lloyd Wright disciple Paolo Soleri, rises from a tract of secluded Arizona desert that is marked only by cacti and dusty dirt roads. It is one of the last-standing utopian eco-communities born of the 1970s and, more directly, of Soleri's theory of "arcology," the seamless confluence of architecture and ecology. Described by Soleri as an "urban laboratory," the idiosyncratic stone buildings that make up the small city's core (and which are still being erected, as funds allow) house all manner of creative activities—amphitheaters for performances, foundries and ceramics studios for artmaking. In Arcosanti's early days, recruitment posters lured residents with a potent statement: "If you are truly concerned about the problems of pollution, waste, energy depletion, land, water, air and biological conservation, poverty, segregation, intolerance, population containment, fear and disillusionment. Join us." Today, three years after Soleri's death, the small community of some 50 residents that remain at Arcosanti still live according to this mantra, with the goal of finally realizing the architect's vision for an idyllic eco-city.
Rettungsstation der Strandwache II (Beach Rescue Station), Rügen Island, Baltic Sea, Germany
Architect: Dietrich Otto (architect) and Ulrich Müther (engineer)
Built: 1981
Photo by Kra, via Creative Commons.
This former lifeguard hut, designed and erected behind the "Iron Curtain" before the fall of the Berlin Wall, has become known as one of the most innovative examples of "shell" architecture—easily replicable, poured concrete structures pioneered in the 1960s. The brainchild of German architect and engineer Ulrich Müther, this futuristic pod hovers above a stretch of beach on the Baltic Sea's remote Rügen Island. Müther's home throughout his life, from 1934 until 2007, the island hosts several of the designer's most experimental buildings, which he humbly summed up as "a very rational way of directing energy." Müther's other little-known modernist masterpieces include planetariums in Libya and Kuwait, a velodrome in Havana, and a mosque in Amman. These curvaceous, elliptical structures have often been compared to the magnum opi of his contemporaries, Mexican architect Félix Candela and Brazilian architect Oscar Niemeyer, both of whom influenced him.
Fallingwater, Mill Run, Pennsylvania
Architect: Frank Lloyd Wright
Built: 1936-1938
Left: Photo by Jonathan Lin, via Flickr. Right: Photo by Via Tsuji, via Flickr.
"I want you to live with the waterfall, not just to look at it," pioneering modernist architect Frank Lloyd Wright famously told Edgar Kaufmann with aplomb. Kaufmann, a Pittsburgh retail mogul, had tapped Wright to design a home in the southwestern Pennsylvania woods, next to the picturesque waterfalls of Bear Run. The cantilevered house that Wright dreamed up—and eventually erected, with great difficulty—would become an icon and one of the most daring architectural feats of the 20th century. The structure is indeed built over the falls, which gush under its signature cantilevered concrete terraces, elegant rectangular windows, and central fireplace embedded in the waterfall's rocks. With the goal that Fallingwater would "be an accompaniment to the music of the stream," Wright seamlessly incorporated the surrounding landscape into the building's exterior and interior spaces, the latter which he also meticulously designed—right down to the orange and yellow pillows that decorate long, low-lying couches.
Casa Luis Barragán, Mexico City
Architect: Luis Barragán
Built: 1948
Left: Photo by Forgemind ArchiMedia, via Flickr. Right: Photo by Leonardo Canion, via Flickr.
Behind a stark grey facade in Mexico City's modest Tacubaya neighborhood hides architect Luis Barragán's former home and, according to many, his masterwork (it was named a UNESCO World Heritage site in 2004). The modernist structure's entry hall—a space flooded with warm yellow light and capped with a bubblegum pink door—gives way to more idiosyncratic, colorful flourishes that animate the building's hard-edged rooms. A patch of yellow floor, a courtyard swathed in orange, and a floor-to-ceiling window that reveals a cascade of green foliage have become Barragán trademarks, invoking the hues of the architect's native country. His home inspired fellow architect Louis Kahn to dole out one of his most effusive compliments. After visiting Casa Barragán, Kahn said, "His house is not merely a house but House itself. Anyone could feel at home. Its material is traditional, its character eternal."
The Nakagin Capsule Tower, Tokyo
Architect: Kisho Kurokawa
Built: 1972
Left: Photo by Naoya Fujii, via Flickr. Right: Photo by scarletgreen, via Flickr.
This futuristic icon of the Tokyo skyline was the world's first working example of capsule architecture; its 140 square pods, perforated by circular windows, can be plugged into and removed from the building's central core as needed. The tower is the brainchild of Kisho Kurokawa, a pioneer of Metabolism, an architectural movement driven by the intent to produce elastic structures that respond to shifting environments and human needs. Kurokawa's goal for the building was to "establish a space for the individual as a criticism to the Japan that modernized without undergoing any establishment of a 'self.'" Making good on his mission, the architect equipped each of the 13-floor building's pods with ready-to-use appliances and furniture. Today, while the building has fallen into relative disrepair, you can Airbnb one of its pods for a cool $152 per night.
Alexxa Gotthardt is a Staff Writer at Artsy.
Stay up to date with Artsy Editorial