9 of the World's Top Architectural Pilgrimages, from Chandigarh to Fallingwater
"It is alarming that publications devoted to architecture have banished from their pages the words beauty, inspiration, magic, spellbound, enchantment, as well as the concepts of serenity, silence, intimacy and amazement," Mexican architect Luis Barragán mused in 1980. He was accepting the preeminent architecture award, the Pritzker Prize, which
honored
Barragán for his "commitment to architecture as a sublime act of the poetic imagination" and his "gardens, plazas, and fountains of haunting beauty."
Barragán is one of a host of pioneering architects from around the world whose ambitious, transporting designs draws visitors from overseas every year. Below, we explore nine of the world's most unique architectural pilgrimages, from Barragán's own colorful home, hidden behind a grey wall in Mexico City, to Friedensreich Hundertwasser's enchanting spa, tucked into the Austrian countryside.
Hotel Rogner Bad Blumau, Austria
Architect: Friedensreich Hundertwasser
Built: 1997
Austrian painter and architect
Brasilia, Brazil
Architect: Oscar Niemeyer
Built: 1956–1960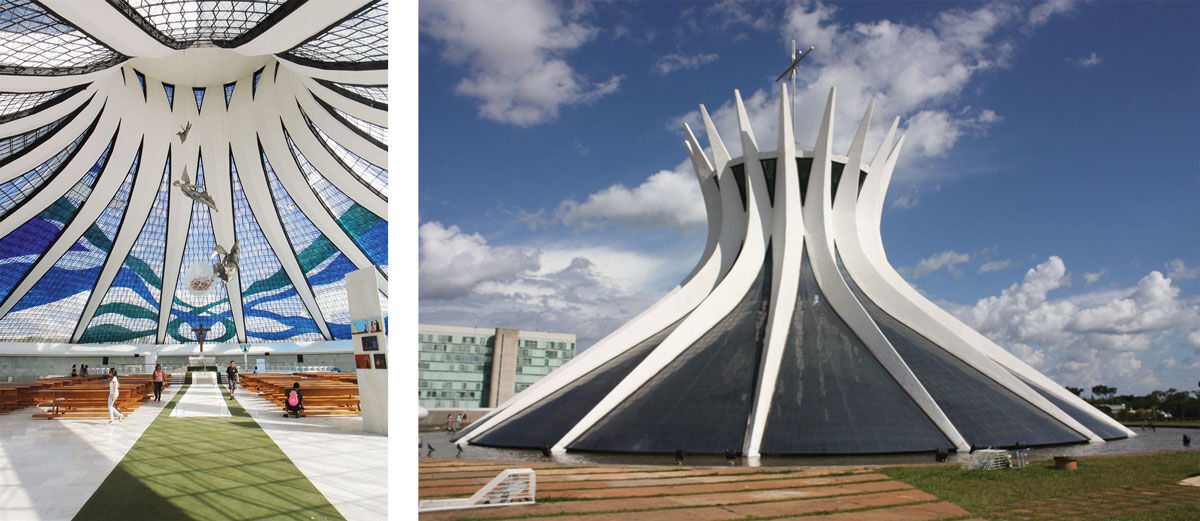 Las Pozas, Xilitla, San Luis Potosi, Mexico
Architect: Edward James
Built: 1962–1984
Eight hours north of Mexico City, deep in the rainforest that covers the Sierra Madre mountains, the millionaire poet, amateur botanist, and eccentric Edward James lovingly forged his
Chandigarh, India
Architect: Planned by Le Corbusier, with buildings designed by Pierre Jeanneret, Jane B. Drew, and Maxwell Fry
Built: 1951–1970
Several years after India gained independence in 1947, then-prime minister Jawaharlal Nehru hired Swiss architect
New Yorker
claimed
in 1955. With the help of fellow architects Maxwell Fry, Jane B. Drew, Pierre Jeanneret, and a team of Indian architects and planners including M.N. Sharma, Le Corbusier realized his plan for Chandigarh, a "Garden City" organized on a grid and punctuated with public space. Today, the city's best-known buildings—the Palace of Justice, the Palace of Assembly, and the Secretariat—are crumbling and guarded by a cohort of armed policeman. But they remain
icons of Brutalist architecture
and Le Corbusier's game-changing design theories.
Arcosanti, Arizona
Architect: Paolo Soleri
Built: 1970–Present
Arcosanti, a city of sci-fi proportions designed by Frank Lloyd Wright disciple Paolo Soleri, rises from a tract of secluded Arizona desert that is marked only by cacti and dusty dirt roads. It is one of the last-standing utopian eco-communities born of the 1970s and, more directly, of Soleri's theory of "arcology," the seamless confluence of architecture and ecology. Described by Soleri as an "urban laboratory," the idiosyncratic stone buildings that make up the small city's core (and which are still being erected, as funds allow) house all manner of creative activities—amphitheaters for performances, foundries and ceramics studios for artmaking. In Arcosanti's early days, recruitment posters lured residents with a potent statement: "If you are truly concerned about the problems of pollution, waste, energy depletion, land, water, air and biological conservation, poverty, segregation, intolerance, population containment, fear and disillusionment. Join us." Today, three years after Soleri's death, the small community of some 50 residents that remain at Arcosanti still live according to this mantra, with the goal of finally realizing the architect's vision for an idyllic eco-city.
Rettungsstation der Strandwache II (Beach Rescue Station), Rügen Island, Baltic Sea, Germany
Architect: Dietrich Otto (architect) and Ulrich Müther (engineer)
Built: 1981 
This former lifeguard hut, designed and erected behind the "Iron Curtain" before the fall of the Berlin Wall, has become known as one of the most innovative examples of "shell" architecture—easily replicable, poured concrete structures pioneered in the 1960s. The brainchild of German architect and engineer Ulrich Müther, this futuristic pod hovers above a stretch of beach on the Baltic Sea's remote Rügen Island. Müther's home throughout his life, from 1934 until 2007, the island hosts several of the designer's most experimental buildings, which he humbly summed up as "a very rational way of directing energy." Müther's other little-known modernist masterpieces include planetariums in Libya and Kuwait, a velodrome in Havana, and a mosque in Amman. These curvaceous, elliptical structures have often been compared to the magnum opi of his contemporaries, Mexican architect Félix Candela and Brazilian architect Oscar Niemeyer, both of whom influenced him.
Fallingwater, Mill Run, Pennsylvania
Architect: Frank Lloyd Wright
Built: 1936-1938
"I want you to live with the waterfall, not just to look at it," pioneering modernist architect
Casa Luis Barragán, Mexico City
Architect: Luis Barragán
Built: 1948
Behind a stark grey facade in Mexico City's modest Tacubaya neighborhood hides architect
The Nakagin Capsule Tower, Tokyo
Architect: Kisho Kurokawa
Built: 1972
This futuristic icon of the Tokyo skyline was the world's first working example of capsule architecture; its 140 square pods, perforated by circular windows, can be plugged into and removed from the building's central core as needed. The tower is the brainchild of Kisho Kurokawa, a pioneer of Metabolism, an architectural movement driven by the intent to produce elastic structures that respond to shifting environments and human needs. Kurokawa's goal for the building
was to
"establish a space for the individual as a criticism to the Japan that modernized without undergoing any establishment of a 'self.'" Making good on his mission, the architect equipped each of the 13-floor building's pods with ready-to-use appliances and furniture. Today, while the building has fallen into relative disrepair, you can Airbnb one of its pods for a cool $152 per night.
Alexxa Gotthardt is a contributing writer for Artsy.