Yayoi Kusama's Infinity Rooms Made Accessible to People with Disabilities for First Time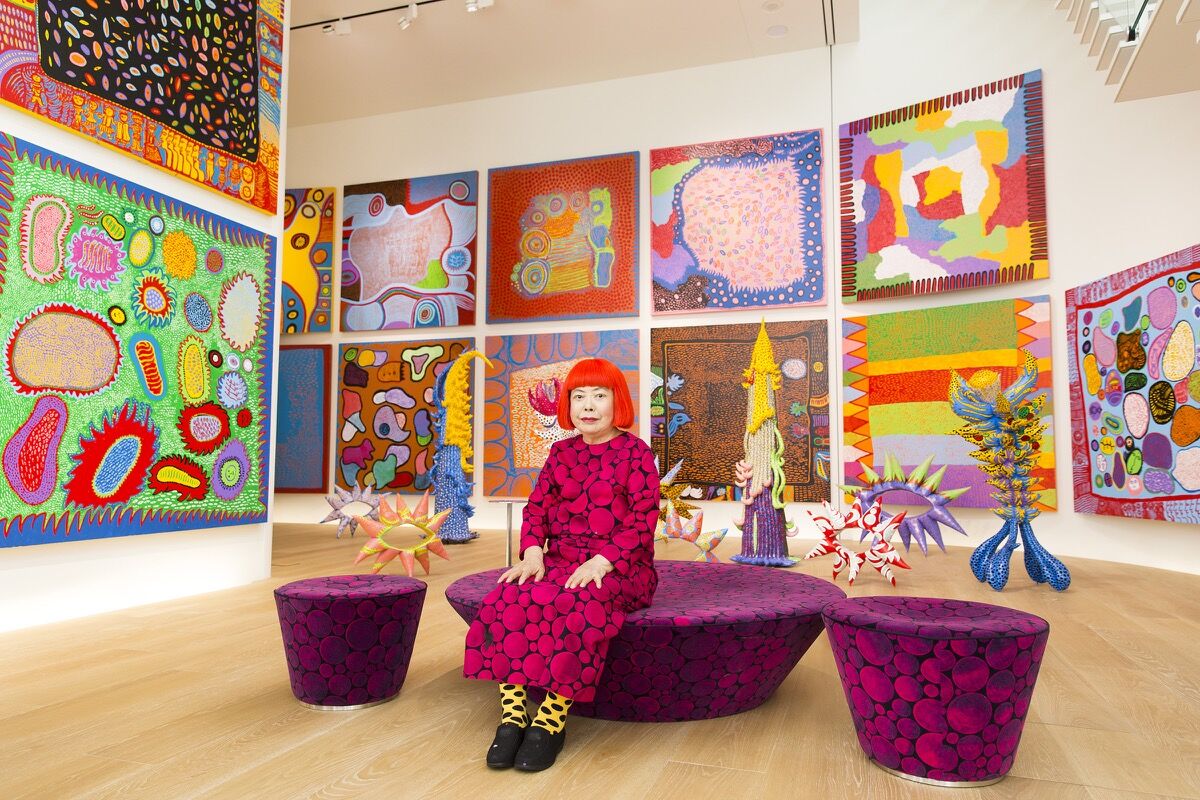 Early on in preparations for their forthcoming blockbuster exhibition "Yayoi Kusama: Infinity Mirrors," staffers at the Smithsonian's 
Hirshhorn Museum and Sculpture Garden
 were met with a new challenge. The ramps and platforms inside the Japanese artist's famed "Infinity" rooms—chambers that envelop viewers in an illusion of infinity with mirrors, LED lights, colored spots, or polka-dotted sculptures—are too narrow to meet ADA standards for wheelchair accessibility. Some individuals with disabilities would not be able to access and experience those works.
Given that the ramps cannot be modified (the rooms come with detailed instructions in Japanese that prescribe how they must be assembled and presented) and the Hirshhorn as a public institution is legally bound and ideologically driven to exhibit art that can be accessed by all, they needed a solution. And they found it: virtual reality.
"We needed to find out how we could allow people to experience the 'Infinity' rooms, without actually going in," says Hirshhorn director Melissa Chiu. The closest thing to experiencing these artworks in person, they found, would be a virtual reality simulation that would replicate its visual elements within a headset. As precise, 360-degree experiences, Kusama's "Infinity" rooms are ideally suited to VR technology.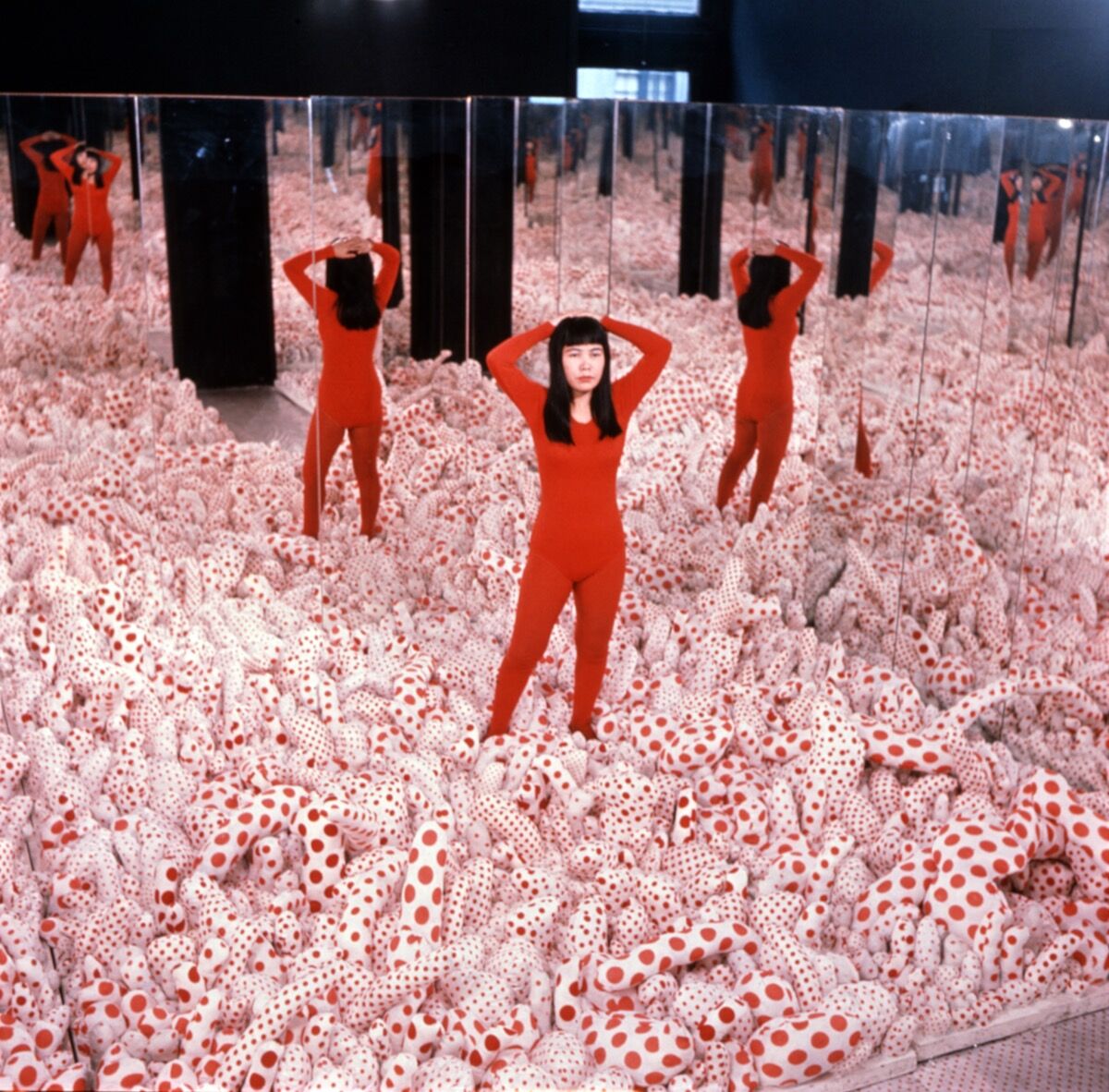 Hirshhorn time-based media specialist and coordinator Drew Doucette proposed and helmed the initiative, which has seen three of All the Eternal Love I Have for the Pumpkins (2016), Aftermath of Obliteration of Eternity (2009), and Infinity Mirror Room–Phalli's Field (1965/2016)—translated into VR. The experience is accessible through a smartphone app realized in partnership with Samsung, which provided VR headsets and S7 Edge phones for use within the exhibition. It is exclusively available within the exhibition, and only available to people with disabilities who cannot access the rooms.
Through the run of the exhibition, headsets and phones will be administered by visitor services employees, beside the corresponding "Infinity" rooms. Doucette notes that they've made the process as seamless as possible. "They pull the cell phone out, launch application, put it in the headset, and hand it to the visitor."
The bespoke app was created by an in-house developer, Cody Coltharp, who was on contract with the museum at the time. Using a 3D software called Unity (primarily used to develop games) he created simulations of Kusama's "Infinity" works based on 3D scans of sculptural components of the original rooms. Due to the infinite loop created by the mirrors in two of the rooms, which would have caused the VR program to crash, Coltharp manually created an environment that mimicked the multiplier effect of Kusama's mirrored environments.
"In planning for this show, we were trying to figure out how to allow as much access to this exhibition as possible," Chiu explains. "We were thinking very carefully about the optimal viewing experience." The museum has implemented a new audio guide with exclusive video content and an online timed booking system that will help alleviate the almost certainly long admission queues. (Nearly every Kusama exhibition in recent memory has seen visitors lining up for hours on end.) Most inspiring and innovative, however, is the museum's use of VR, which is the first time the technology has been used at the Hirshhorn. In using virtual reality as a means of accessibility reserved for people with disabilities, it is an unprecedented initiative among art museums.
Myriad museums across the globe have hosted "Infinity" rooms in recent years, though the Hirshhorn's show (which will travel on to five other North American museums) is the first exhibition to specifically trace the history of the rooms, and will present six in total, in addition to other signature Kusama works.
"It's important to remember that this particular project was conceived for access, for those who could not experience Kusama's work," Chiu adds, emphasizing that this is not a case where an artist has created as an artwork in virtual reality. "Kusama's role was really to think about what it meant to have a virtual experience of her work," Chiu continues. "She really liked the idea of allowing the 'Infinity' rooms to be recreated in this way, in a virtual way. She's interested in creating as much access as possible to her work." While at press time Kusama had not seen the final renderings, Doucette confirmed that the artist was pleased with the latest iterations.
While some artists might be wary of allowing for VR simulations of their work, it's not surprising that Kusama was receptive to the idea. Known for channeling her mental illness into her work and for living voluntarily in a Tokyo mental hospital over the past four decades, Kusama, who turns 88 this March, makes public appearances in a wheelchair (sometimes a polka-dotted one) and has said in the past that the grueling physical labor of her work took its toll on her body.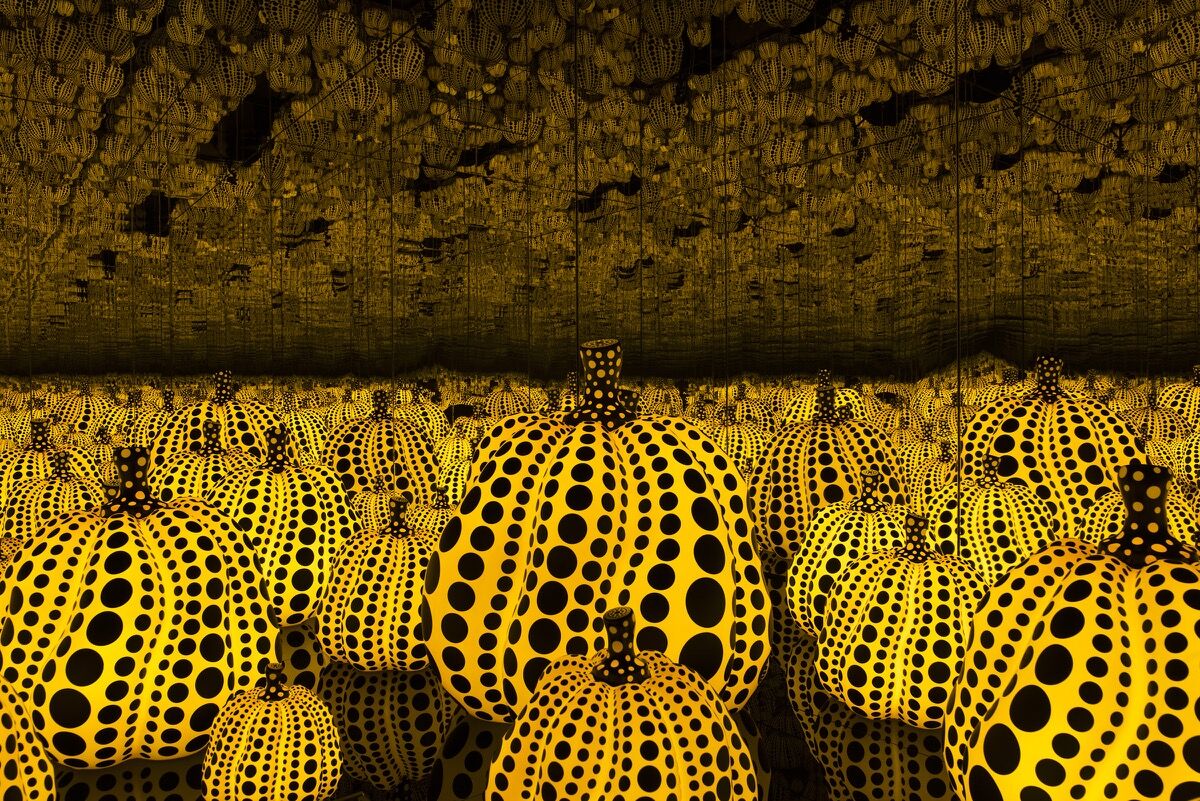 This won't be the last time you see VR at the Hirshhorn, Chiu says. "We're very interested in new technologies and virtual reality is one we're looking at carefully." The director notes that the medium will be a part of the museum's future as a means of enhancing accessibility, as well as through artists who are working with VR. "We're perfectly placed; we have a readymade audience that is receptive to new forms of technology and culturally aware." That audience, and others from out of town and up and down the East Coast are likely to flock to the museum to take in the Hirshhorn show.
"It forces you to simply be, to look, to experience something that's immersive and to be fully immersed," Chiu continues. "That is a very unique experience today for people; there are very few moments where you can feel alone in the cosmos, and that's how Kusama designed it." And now, thanks to VR technology, it's an experience that can be accessed by more visitors than ever.
Casey Lesser is Artsy's Creativity Editor.
Cover image: Kusama with Pumpkin, 2010. Courtesy Ota Fine Arts, Tokyo/ Singapore; Victoria Miro Gallery, London; David Zwirner, New York; KUSAMA Enterprise © Yayoi Kusama