Young Galleries Find a Welcome Alternative to Major Art Fairs in Paris Internationale
The past year has been characterized by what has sometimes felt like a barrage of bad news for small and emerging galleries, with every month or so bringing an announcement of yet another closure. Gallerists often pointed to expenses racked up on the art fair circuit as a major factor behind their decision to close. So why did the 55 galleries taking part in the third edition of Paris Internationale feel so happy to be there?
Many cited its strong sense of camaraderie, which may feel especially topical right now, as galleries struggle to make ends meet, particularly in high-rent cities such as London and New York.
"I've always wanted to do this fair," said Simon Wang of Shanghai's
Antenna Space
. "I want to be with other gallery friends." He said the solidarity went from the intangible, such as sharing "insights" with one another, to the more concrete, pointing to a pedestal in the corner of his booth that other galleries had helped him build.  
Paris Internationale co-founder and gallerist Guillaume Sultana said that's no accident: The fair was created by galleries and for galleries, and is expressly run on a non-profit basis.
"We work for free, we pay for our booth," Sultana said. "We do this fair for galleries—we are crazy enough to do that!" Sultana joked.
With the volunteer work of Sultana and his fellow co-founders, the galleries Crèvecoeur, High Art, Antoine Levi, and
Gregor Staiger
, booth costs range from €4,500 to €7,500, a timely reduction in cost from last year, Sultana said. That keeps stakes low, creating a more relaxed environment in which galleries feel comfortable referring collectors to one another and dealers can enjoy themselves without worrying they're falling (deeper) into the red. The fair is also invitation only, so the organizers don't waste time hustling up proposals that may lead to naught.
"You have a lot of expenses for a fair to go see collectors and to sell art," Sultana said. "For a young gallery, we don't have the same margins" as more established galleries selling works in the five, six, seven, and eight figures.
This year, Paris Internationale moved to a new site, the top four floors of a disused parking garage on what was once the site of the left-wing newspaper Libération, from its previous home in an old hôtel particulier. Sun streamed in through the open windows, while cigarette smoke streamed out. Although the space was much larger, Sultana said they'd kept the number of galleries the same as last year, to give everyone more space to exhibit.
Elyse Derosia of New York's Bodega said that thanks to the change of venue, the fair "always feels fresh." She was also enthusiastic about the quality of the collectors roaming around.
"Unlike some of the smaller fairs [that happen when] there's a bigger fair going on, I really feel like almost everyone who goes to
FIAC
comes through here," Derosia said. She was also grateful for the low costs, which she said allowed galleries to show "riskier, less market-driven work," adding that Paris Internationale was her "favorite fair." She had brought works by five of the gallery's artists, including
Other gallerists agreed that the many international collectors and institutions in town for FIAC, which runs from Wednesday through Sunday, come through Paris Internationale as well, as did local French collectors.
For Laura Windhager, founding director of Vienna gallery Gianni Manhattan, which opened just this year, being at Paris Internationale was actually a dream come true. "I had told my boyfriend, 'This is my dream art fair,'" she said. "I think it's such a curated selection of galleries, and they're all intertwined somehow, and then they invited us!" It was the gallery's very first art fair, for which she brought works by two young French artists, Nils Alix-Tabeling and Matthieu Haberard.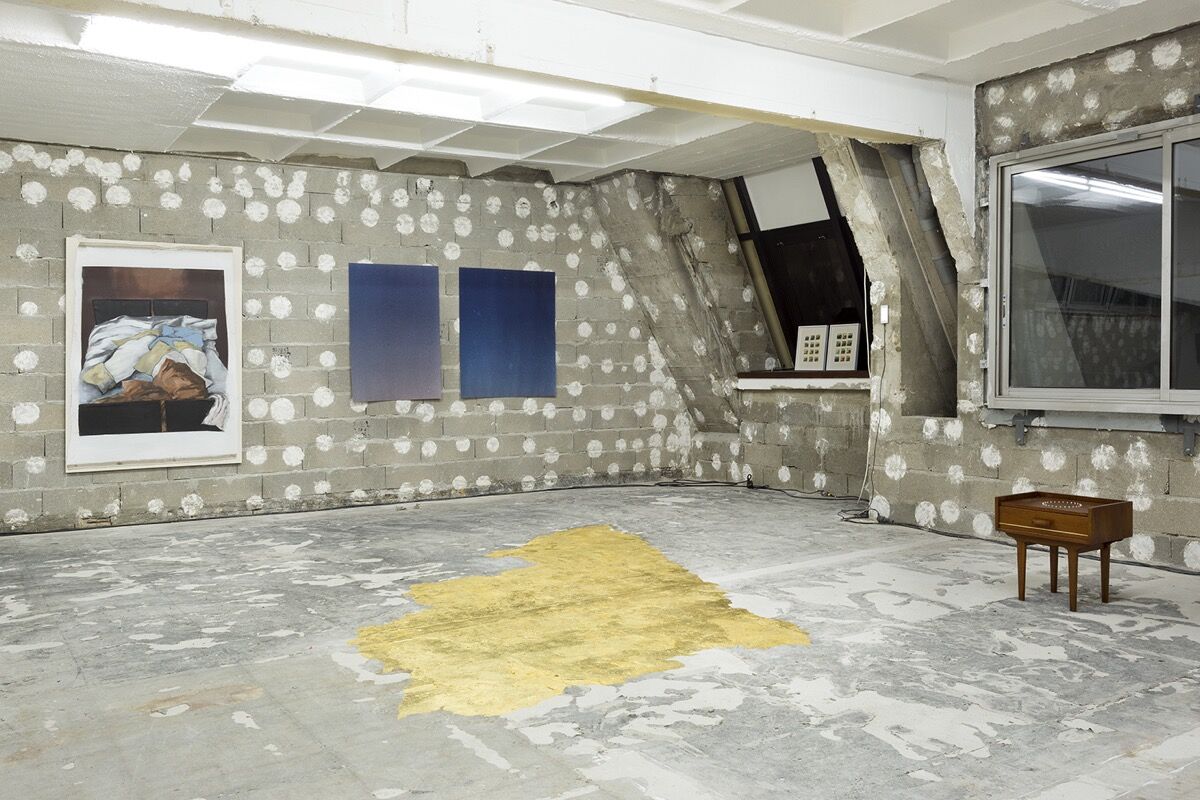 Another new gallery, Beirut's Marfa', is celebrating its second anniversary while at the fair on Sunday. Like Windhager, director Cherine Karam mentioned the community aspect of Paris Internationale as one reason she was keen to participate.
"This is where we want to be, in an art fair that really champions young galleries and young artists," said Karam. "This is the vibe we were looking for and these are the galleries we want to be exhibiting with also…we have a lot in common." Karam said that being a Lebanese gallery was tough in its own way. While Beirut may not have the demanding rent of London or New York, it's hard to grow with a collector base so small.
The gallery has been trying to cultivate new collectors through social media; Karam pointed to a €15,000 work of solid 24-karat gold leaf on the jagged floor of the car park by Moon Pills (2015), a delicate circle of contraceptive pills painted with the phases of the moon and laid out on a nightstand, for €5,500, and four works by Tamara Al Samerraei, small iterative paintings of the same cliff scene, sold for €1,800 each.  
"They have galleries, so they understand what would be helpful and not so much," he said. "I always see all the collectors I would want to see, and I see art. That's kind of a core of this fair; even when I just wander to get a beer or a sandwich or something, I see art."
One unmissable booth, with its giant sculpture of a pair of disembodied, misshapen, fuchsia and purple legs, was that of London's Emalin, another young gallery that's had a permanent space for just over a year. The works, mostly sculpture and ranging from £7,000 to £10,000, were all by the Canada-born Greek artist
uses typically feminine consumer products
—hair dye, self-tanner, lipstick—and personal archival materials to create macabre, organic forms that recall
Frieze London
's "Focus" section, where they had recently participated.
"Frieze is a huge institution which has, obviously, a different kind of reach," she said, although she noted that a similar caliber of collector seemed to be present at Paris Internationale. "It feels like people have more time here…it's much more relaxed but no less productive. It feels really nice." She had sold a couple of Papadopoulos's works by Tuesday afternoon.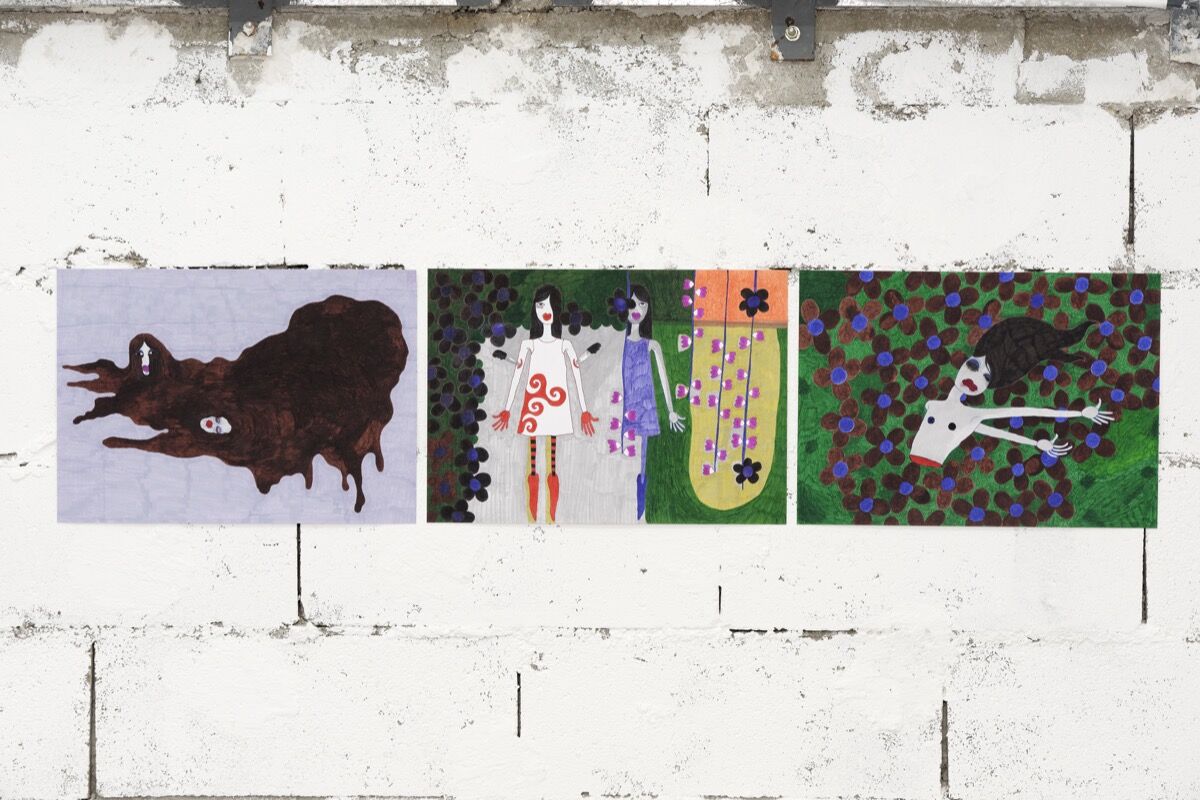 Rózsa Farkas, the founder and director of London's Arcadia Missa, pointed out another difference between Paris Internationale and most other fairs that require an application and submission. Paris Internationale's pricing stays the same regardless of how many artists a gallery brings, so dealers aren't wedded to one presentation or a solo show.
"It means you can be a little more free and make decisions more at the last minute about what you're taking," said Farkas, who was participating for the second time. She had brought a mix of works by Arcadia Missa's artists, but with a focus on new drawings by Penny Goring. On one wall, she had hung a whole medley of works, in the style of a salon.
"It's being honest about what a fair is," she said, gesturing to the wall—in other words, a chance to display the artists you represent and hopefully sell enough work to keep the lights on. To that end, Farkas said she was experimenting with bringing works at a lower price point, ranging from £1,000 to £4,000.
Of course, as so many dealers pointed out, Paris Internationale this year felt like more than just a typical fair. Rather, it seemed like an opportunity for the Davids of the art world to gather and fortify themselves for what could be another grueling year for galleries of their size, age, and spirit.
"They're creating a community of like-minded galleries and this is very powerful now," said Alain Servais, a Belgian collector who supports emerging artists and young galleries. "This is a way to counter the big machine. And this is a reason to be here—not because it's the same price as Frieze Focus, but because you're part of a community."