An Artist's Explorations into Cultural Memory Come into Focus in Wake of ISIS Attack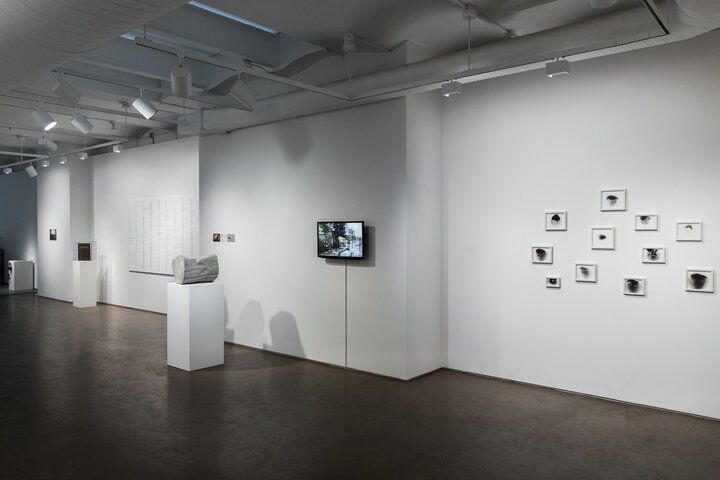 Installation view of "Records for Uncertain Times" courtesy of Taymour Grahne.
For much of the 20th century, Beirut served as a battleground for a string of conflicts that ravaged the country. On several occasions, the museum doubled as barracks. It is an aspect of Beirut's history that many would rather forget. For instance, there is no public record of the vanished and damaged artworks. Under–Writing Beirut – Mathaf (2013), the major work and conceptual core of Joreige's exhibition, questions this kind of inaccessibility and selective memory. 
This multimedia, multi-part piece spans the length of the gallery, mapping the site of the museum and its historical underpinnings with a diverse range of text, images, and objects. At a glance, the installation reads as a history museum display of artifacts that explore the unique character or transformation of a city. At close range Under–Writing Beirut – Mathaf surfaces as an anthropological and psychological study of the lingering aftershocks of conflict. 
A series of three small photographs depicting a large, jagged hole in the museum's
Good Shepherd Mosaic
feels like the crux of the installation. The hole was made by a wartime sniper in need of a lookout point, and these were some of the only images the museum would release when Joreige asked for information on damaged artworks. Inspired by these photographs, Joreige imagines the size of the sniper's opening and his view of the city in a
sculpture
and video, respectively. The scale of the hole in the sculptural relief is intentionally imprecise, and the street scene in the video is contemporary. Here, Joreige uses inaccuracy and anachronism to highlight the passage of time and malleability of memory.
Joreige further combines fact and fiction in two works that center on the museum's inventory. The wallpaper-scale piece All the objects from the national museum, visible on December 15, 2012 (2013) accurately lists what the title describes. As a pointed, cheeky foil, Objects Missing from the National Museum of Beirut (2013) is a fictional book that might contain the information that the museum refused to release. To drive home her point, Joreige closes the book and covers it with a glass case. 
A series of large photograms, each about the height of a human, populates the other side of the gallery. The images depict Joreige sleeping on a wooden board, but more closely resemble ghostly figures fading in and out of some liminal space—a void of time and place. These works, all titled One Night of Sleep (2013), act as both a universal and extremely personal counterpoint to Under–Writing Beirut – Mathaf. While the exhibition text tells us that this is Joreige's body, it could be anyone, anywhere in the world, trying to close the gaps between past, present, and future. 
Alexxa Gotthardt is a contributing writer for Artsy.
Stir Creativity
See how Bombay Sapphire supports artistry.
Sponsored by Bombay Sapphire