Arte Povera Takes a Dark Turn in Jannis Kounellis's Installation at Sprovieri Gallery
stated
in a 1968 interview with Marisa Volpi in the art journal
Marcatré
. "What we must try to achieve... is the unity between art and life."
Certain characteristics of Povera are carried over half a century later into Kounellis's current 
installation
 at 
Sprovieri
 in London, his fifth solo show at the gallery: the reappropriation of everyday materials, an esoteric atmosphere that seems to refer to a (here undefined) historic period of time, and attention to a specific space. Kounellis's later work has focused on dark materials, monochromatic tones, and raw metals, fabrics, coals, sacks, stones... As ever, it speaks of alienation, confronting mortality in the non-linguistic realm of visual art.
This unnamed installation is sharp (32 knives), black (torn coats), and imposing (18 iron beams). The coats, hung at regular intervals, form geometric blotches along the white walls. When approached, it becomes evident that these coats are hung from large kitchen knives, and the already somber atmosphere turns sinister, evoking execution, or the stylized aftermath of a gothic horror movie. The knives' glint is the brightest element in the room.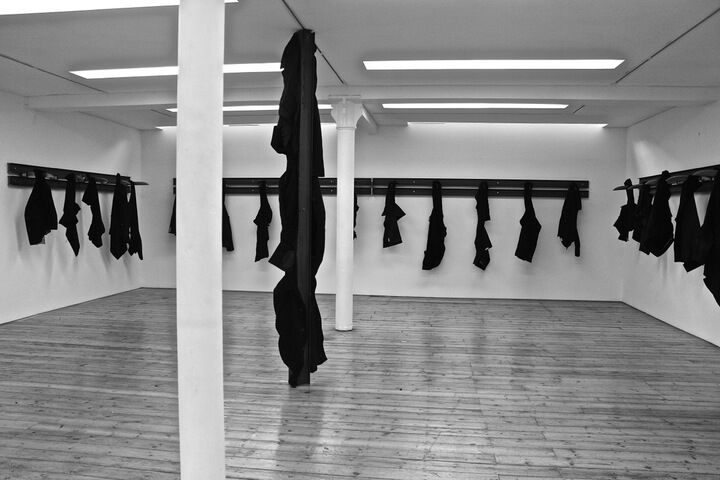 In an essay that accompanied the first display of this formation in Italy in 2014, art historian Rudi Fuchs suggested that the resulting ambiance may be aligned as much
with
"the dark shadowy light in the art of Caravaggio," as with the doomful spirit of contemporary drone music of the always-hooded band Sunn O))). Alternatively, the gallery might be seen as a space of unmoving, absurdist theatre, divorced from language, in which the only conclusion for human existence is silence. Many futures and pasts may be imagined, but all are covered in shadows.