Before PULSE New York, Helen Toomer Talks Directing and Collecting
Photo by Emily Johnston for Artsy
Helen Toomer, director of
PULSE
Contemporary Art Fair, is sitting at the kitchen table of her Williamsburg apartment next to a stack of floor plans. "There's something comforting about the parameters of the physical space," she says, thumbing the papers. PULSE New York is less than a month away and Toomer has worked the layout like a jigsaw puzzle, allocating each booth and positioning the pieces in PROJECTS—the fair's series of installations, large-scale sculptures, and performances—for maximum effect. By the end of March, Toomer will have coordinated three PULSE  editions in under a year—two in New York and one in Miami—and in spite of a schedule that would overwhelm almost anyone, she's affable and relaxed; a born organizer. 
Photo by Emily Johnston for Artsy
Toomer didn't always know her calling. "When I was younger I wanted to be an artist, and I wanted to be creative," she says. "And then when I did my bachelor of fine arts, I actually found it really, really difficult and, looking back, I didn't think that I could push myself, or push the work enough to make it good." It wasn't until she began organizing her degree exhibition that she felt in her element. "I'm very organized, I'm very formulaic. I really enjoyed putting [the show] together and sorting out all the materials, getting the sponsors, curating and promoting everyone else's artworks, which I thought were better than mine," she laughs. "I haven't made any artwork since." 
Photo by Emily Johnston for Artsy
Toomer was soon scouted by London's Affordable Art Fair, founded by art impresario Will Ramsay, and was eventually transferred to New York to join the staff of Ramsay's other fair, PULSE, where she handled communications. In 2010, she took a three-year hiatus from fairs, championing the work of emerging artists through her Lower East Side gallery, Toomer Labzda, where she found that her organizer's disposition was right at home. "I loved it. I loved having my own space, I loved working with the artists, I loved putting on the shows and connecting collectors to artists…[But] I think I went into it just believing that showing good artists and having a space would equal sales and equal sustainability, and it didn't." After closing the gallery, Toomer helped launch Collective Design Fair before returning to PULSE as its director in early 2014. "It's great to come back full circle…It's kind of amazing being reconnected with some of the galleries and artists that I met nearly eight years ago now."
If Toomer's career is centered on good sense, her collecting follows gut instinct. "I'm very emotive," she says. "I'm very reactionary to work that I respond to." Toomer's collection fills her apartment. Built around pieces by artists she showed at Toomer Labzda, it also includes work she purchased from other galleries, received as gifts from family and friends, and picked up on her travels. "I guess I'm a hoarder," she laughs. "I like folk art or outsider art, too. I'm really drawn to that. I just bought a random painting upstate. This little lion from Mexico. These pieces that are hung up there salon style from the Dominican Republic and the Bahamas. I've got stuff at home [in England] from Indonesia and Borneo. And a card from my nephew. I'm definitely not a highbrow collector." When Toomer moved in with her fiance, art fair producer Eric Romano, she also adopted his collection, which favors photographs where hers is heavy on textural paintings and mixed-media sculpture.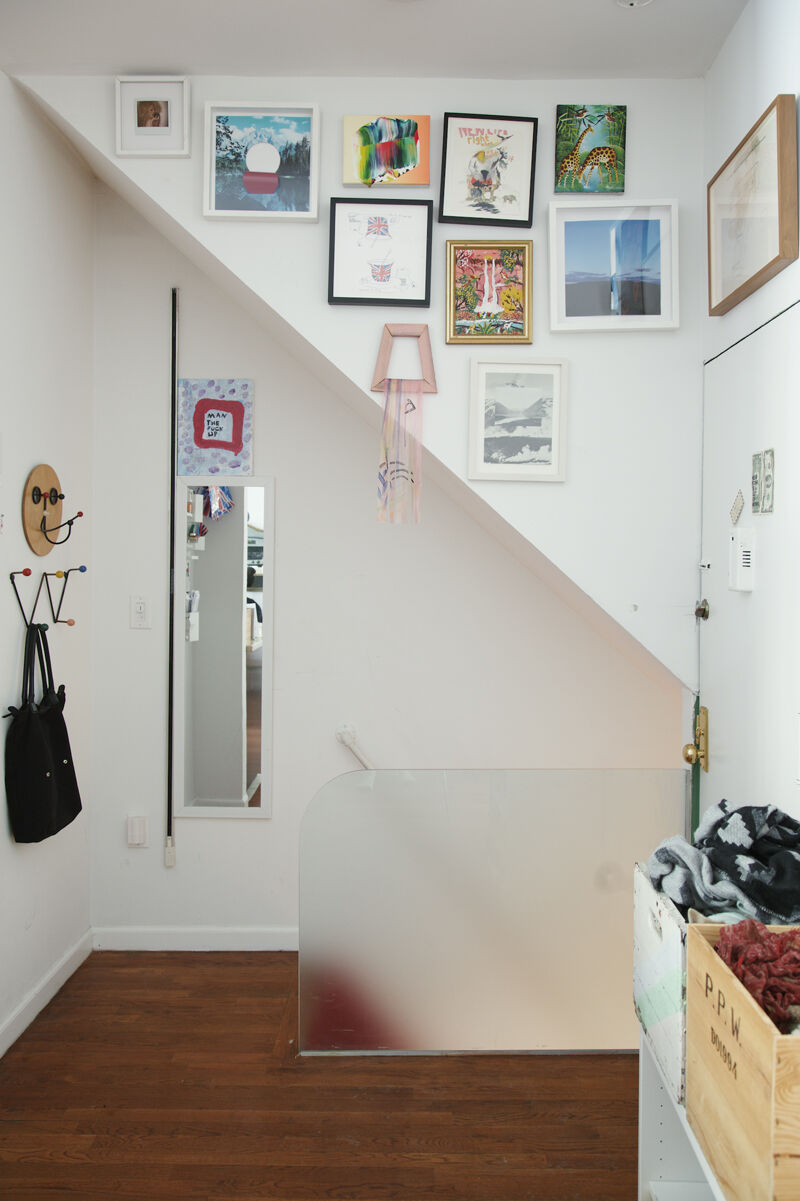 Photo by Emily Johnston for Artsy
As disparate as her collection is, Toomer can't help but find connections between the works, making juxtapositions and combinations that highlight the surprising similarities between things or tease out their differences in unexpected ways. Toomer points to a painting across the room, a canvas of thickly applied oil in pastel tones. "This piece here is by
Photo by Emily Johnston for Artsy
One of Toomer's favorite pieces is a sculpture by Blue Curry, whose work she also showed at Toomer Labzda. "What I love about Blue's work is he collects things over time. His studio in London is just insane. Just full of stuff. And when I would go to London and see him, we would go to the flea market. He'll pair these two things. An old slide projector with a conch ashtray on top. He said that he had that [slide] reel for eight years. And then when he saw the ashtray he just knew. It's crazy to me," she marvels, "but I love it. I love the way that he put that together." The work attests to the harmony that can be achieved between dissimilar objects or emerge from apparent chaos. In a sense it's what Toomer thrives on: creating a cohesive whole from hundreds of individually dynamic elements. "We were joking the other day about what's going to be the next buzzword. I feel like five years ago everyone was an artist. Now everybody's a curator. I'm gonna try and bring in 'organizer,'" she laughs. "But it's not sexy."
Photo by Emily Johnston for Artsy