Charles Gaines On Representation, the Black Art Establishment, and His Two L.A. Shows
Charles Gaines: Gridwork 1974-1989
" at the
Hammer Museum
, in L.A., is the first museum exhibition focused solely on his early conceptual work, some of which had been presumed lost. At the same time, his latest series "Librettos: Manuel de Falla / Stokely Carmichael" (2015) is on view in the inaugural show at Art + Practice (also organized by the Hammer), a new art and education foundation based in L.A.'s Leimert Park. Taken together, these exhibitions provide an opportunity to revisit Gaines's important, but often overlooked, early work and to view it in the context of his current artistic practice.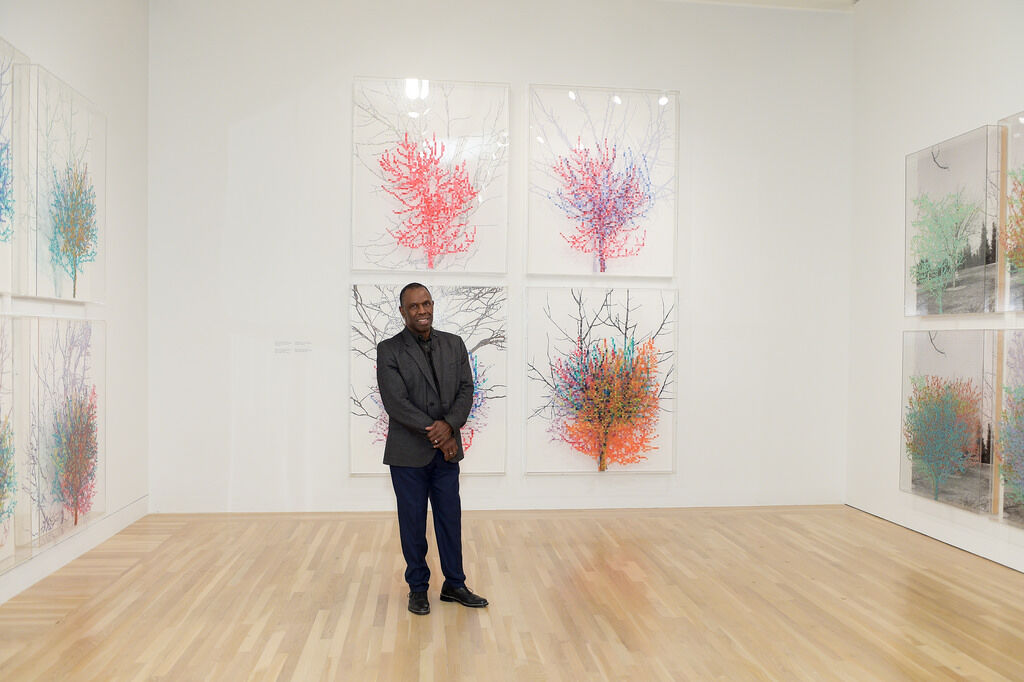 The works included in "Gridwork" show Gaines's first embrace of conceptual systems as a way to eliminate ego in his work. Although he had previously made abstract and figurative paintings, he was uncomfortable with the trite notion that an artist's subjectivity was expressed in the form of an artwork. "I could never attach myself to that. What I was doing was completely arbitrary," he told me over the phone. "I didn't feel that it was an expression of myself at all. So I searched for alternatives."
Gaines began incorporating photography with "Walnut Tree Orchard" (1975-2014), as a way to interrogate representation or "the conflict between what we perceive and how we judge what something is," as he puts it. Each of the 26 triptychs in this series contains three renderings of a tree: a black-and-white photograph, a line drawing and a grid onto which he plots the forms of all the trees previously depicted in the series, each in a different color, creating a layered effect. As he noted in a letter to
With "Faces" (1978-79), Gaines employed a similar strategy, converting seemingly objective black-and-white photo portraits into outlines mapped onto a numbered grid, ending again with the layering of multiple gridded depictions. As these triptychs progress from specific depictions to a kind of universal jumble, "'Faces' enacts the paradox of a logical system (numerical ordering) that produces illogical, uncontrollable outputs," as
Ellen Tani
notes in her catalogue essay. By subjecting these images to analytical processes, we actually get further away from understanding them. In other series like "Falling Leaves" (1978) or "Motion: Trisha Brown Dance" (1980-81), he would apply these methods to durational activities, turning the changing of the seasons or the movement of a dancer—postmodern dancer and choreographer Trisha Brown—into colorful, abstract palimpsests.
"Librettos," Gaines's latest work at Art + Practice, substitutes systems of music and language for numbers and grids, though still with the intention of questioning how meaning is created. Using plexi boxes again, he has overlaid the score of a 1904 opera—Manuel de Falla's La vida breve, a story of a romance torn apart by class divisions—atop a 1964 speech by Black Panther Stokely Carmichael. Viewers must gaze through one set of documents to apprehend the other, forming connections and analogies between these disparate texts in the process.
Gaines's early work established him as a critical figure between the first generation of conceptual-art pioneers and later artists who would use conceptual strategies to investigate cultural and social issues. He was commercially successful, showing with blue-chip New York galleries like Leo Castelli and John Weber, but critical and institutional attention was elusive. "I was more interested in representation than the first generation, but my investigations were theoretical, which was different than the second, so I sort of disappeared in the interstices between the two," he told me. "By 1979," he adds, "people had had it with conceptual art." Furthermore, perhaps since his work was not overtly focused on politics or race, he was overlooked by the black art establishment. "It was very important to me that my social experience as a black person was not separated from my identity as an artist," he notes, "so I really would have liked their approval."
"Gridwork" is especially meaningful, then, not just as a critical reappraisal of his early work, but as a show of recognition from the
Studio Museum in Harlem
, where the exhibition originated. His show at Art + Practice—co-founded by the artist
Although separated by over 25 years, both these exhibitions of Gaines's work reflect an interest in challenging accepted notions of representation and meaning, rooted in his experience growing up black in the South. "Even as a young kid I got to recognize the politics that underlie experiences that people think are natural," he said, citing Jim Crow laws as an example. "I got interested in figuring out how this stuff gets put into place, how people get to establish and create such rules and form such identities. My questioning of reality and my interest in criticality grew out of trying to reconcile the existence of racism essentially. Over the years it moved beyond the immediate experience I was living under to a general critique of culture, and since I became an artist, that became the means and the vehicle for that critique."