How Liza Lou and Her Collective of Zulu Bead-Workers Have Perfected the Art of Painting with Glass
Since founding a collective with Zulu bead-workers in South Africa a decade ago, the artist has created these compositions in collaboration with a community of female artisans. Together they work on the incredibly time-consuming process of beading canvases, creating surfaces  with subtle variations in color that recall pixelated moire patterns or snakeskin. 
"What you're actually seeing when you see any one of these colors is the hand, the hand as it holds something for so many hours and days and weeks and months sometimes ... the hand changes the color of the beads," Lou
has said
of the new works. "And I started to see that, 'god, that's my palette.' My palette is not only the material I use, but it's the way in which we work."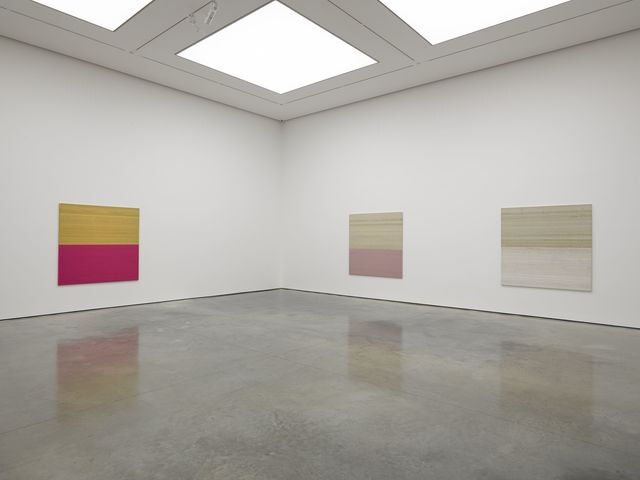 In the gallery, the work is divided into six rooms, each greeting the viewer with a celebration of pure hues. Experiencing the show, Lou has
said
, is like "walking into a shower of color." Hidden within the solid expanses of color and the repetition of the beads is an astounding amount of variety. Along with the shifts in color caused by the weavers' hands, Lou and her team use the American Indian technique of the peyote stitch to create the works, intentionally adding "wrong" colored beads, a traditional reminder of human limitations in the search for perfection. It's then, viewing these intentional aberrations, that you realize there is nothing minimal at all about the results of Lou and her team's labor of love.