In Time for Lunar New Year, Four Artists Take a Hard Look at Chinese Reality
Installation view of Lin Jinging, Public Memory 2, 2013, courtesy of de Sarthe Gallery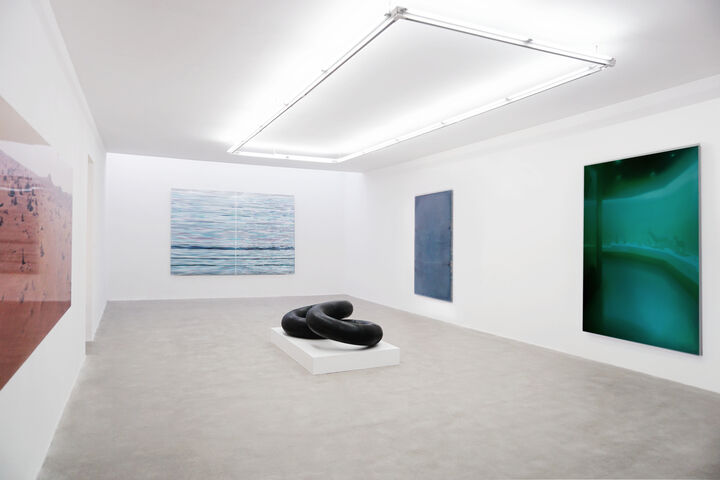 Installation view of "You, I, Among us" courtesy of de Sarthe Gallery
The artists—
You, I, Among us
," is a shared impulse to challenge social norms and raise questions about current events, politics, the environment, pop culture, consumerism, and the intersection between public and private spheres.
It goes without saying that contemporary China, vast and quickly changing, is a complicated place for outsiders to understand. In "You, I, Among us," the artists suggest that the social and political landscape isn't easily comprehensible from an insider's perspective, either. In her "Public Memory" series, for instance, Lin Jingjing subverts images of familiar figures—police officers, politicians, schoolchildren in uniform—to pose questions about power, numbness, and the nation's troubled human rights record.
Wang Guofeng, too, transmits a sense of social chaos with his "Memory" series, in which he fuses the still frames of historical documentaries to create abstract visual images. "Whether history is still meaningful," the artist writes, "becomes a question when its authenticity has turned vague, distorted or subjectified, abstracted."
Zhou Wendou also took inspiration from the past, specifically in older ways of thinking that remain deeply ingrained in Chinese culture. His "Diamond Dreams" installation, set in a dark room, is a reference to a Chinese saying: "Touch stone and turn it into gold." Neon forms built around each stone bathe the rock face in blue, white, or red light and create an ethereal effect. However, the work explicitly highlights reality, what one might call the overarching theme of "You, I, Among us" itself. The stone isn't gold, Zhou seems to be pointing out—it's still just a stone. 

"
You, I, Among us
" is on view at de Sarthe Gallery, Beijing, Dec. 18th, 2014 - Mar. 15th, 2015. 
Installation view of Lin Jinging, Public Memory 2, 2013, courtesy of de Sarthe Gallery.
Installation views of "You, I, Among us" courtesy of de Sarthe Gallery.
Marc Quinn Iris
Explore the cup collection here.
Sponsored by illy