In Wax Figures and Fluid Forms, Two Artists Craft Flexible Cultural Identities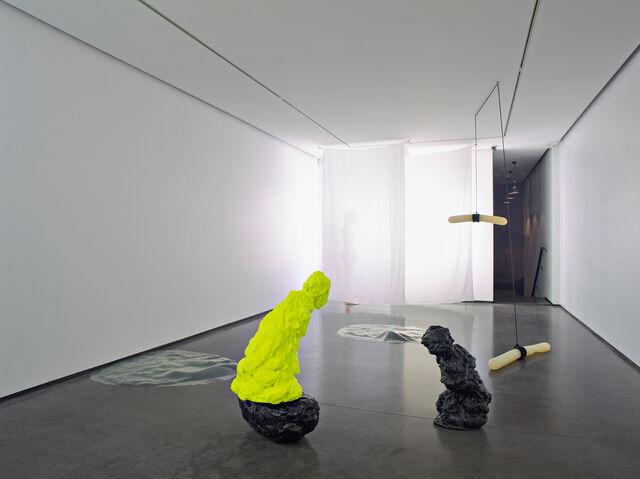 Titled "
Walking on the beach imitating sand
," Ittah and Yoda's collaborative exhibition—the second that they've worked on together—spans sculpture, photographic prints, and a site-specific performance. Both artists grew up in households with that included diverse cultural heritages—Yoda the Tokyo-born son of a Japanese father and Swedish mother, Ittah the Paris-born daughter of North African Jews—and together they create installations and artworks that investigate identity and culture. Here they attempt, in figurative works, to create a space, a "
new homeland
," which is open to new identities and unfettered by historical contingencies.
In several works, such as
Man in blue
and
Joanna
(both 2014), Ittah has sculpted busts from a mixture of marble dust and wax. They're each colored in places with dry pigment: blue on the former, orange on the latter. These colors converge in Ittah's
Daniel II
(2015), a similar sculpture in full figure. The works allude to the lack of fixity in the artist's identity. What appears to be solid, carved of stone, is actually hand-wrought from soft wax—still malleable and impermanent. Within the figuration, her sculptures contain moments of disintegration into soft, unformed wax. "It is very close to flesh,"
says
Ittah. "When I work with wax, its temperature is 37 degrees [Celsius], so it is very close to the temperature of the body. It also has a transparency that resembles human skin." The tactility and eroticism of these figures is reminiscent of works by
In their collaborative "Island" project, the artists approach indeterminacy in a similar, but formally distinct manner. Untitled (Island I) and Untitled (Island II), both created in 2015, appear as abstracted landscapes that subvert the usual relationship between land and water. In each, a small pile of sand is draped with a sheet of silicone, creating the effect of water covering an island, rather than the island rising from waves. Furthermore, the combination of hard, granular sand (silica) and clear, soft rubber (silicone), points to the multifarious nature of matter and its identities. Two molecularly similar substances produce different textures and appearances, reacting metaphorically by their juxtaposition.
Ambiguity, the artists seem to indicate, is a delicate and inimitable condition. It is often fraught with frustration and danger, but can also lead to beautiful and unique insights, such as those found here.