Jeffrey Deitch's Second Act: A Tour Through the Artistic Collaborations of Karole Armitage
Installation view, "Making Art Dance". Pictured: David Salle backdrop for The Tarnished Angels (1987). Costumes by Christian Lacroix. Photo by Joe Schildhorn / BFAnyc.com
Back in the heyday of New York's downtown art scene, in the '80s when Basquiat and Haring were making their mark on the city's landscape, A.I.R. Gallery held all-female exhibitions in SoHo, and identity and body politics took center stage amid rampant drug-use and the AIDS epidemic, art dealer Jeffrey Deitch and choreographer Karole Armitage moved in the same circles. "We were both part of the same downtown NY community of artists, musicians, and writers," Deitch told me. "I have followed avant-garde dance since the early '70s. I always considered it to be part of the art dialogue." At the time, Armitage, a protégé of Merce Cunningham, was beginning to draw recognition for her own choreography. The most memorable of her performances, Deitch recalls, was Gogo Ballerina (1988), performed in a Lower East Side nightclub called The World, in which dancers rocked out to Jimi Hendrix and gyrated on a giant heart-shaped candy box and a three-tiered cake designed by Jeff Koons.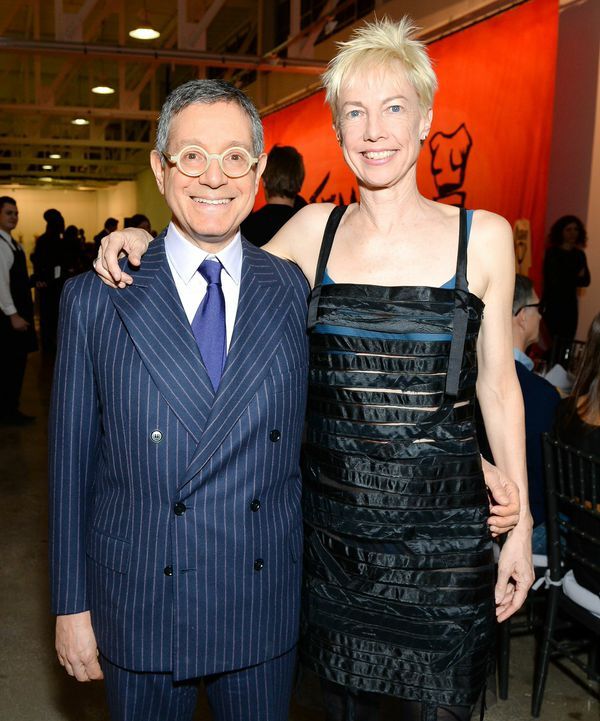 Jeffrey Deitch and Karole Armitage. Photo by Joe Schildhorn / BFAnyc.com
Now, in "Making Art Dance" at Mana Contemporary, an exhibition of sets and costumes curated by Deitch and drawn from 35 years of performances by Armitage—whose troupe is permanently installed at Mana—the two reflect back on the choreographer's career, shining a spotlight on her collaborations with contemporary artists and designers. The partnership between Armitage and Deitch will be less surprising to those familiar with Armitage's work. Her choreographies are anything but esoteric or academic, rather taking up themes aligned with current affairs such as developments in particle physics research or, as in a current piece she's working on, climate change; combining classical ballet with rock music; or incorporating vogueing and capoeira moves, as in Rave (2001). Colored by bold sets and costumes from contemporary artists, Armitage's work earned her the moniker "the punk ballerina," a title that resonates with Deitch's famously populist slant.

Armitage Gone! Dance performs during a private reception for Making Art Dance, December 15, 2014. Photo by Joe Schildhorn / BFAnyc.com
Armitage's impressive roster of past collaborators includes Christian Lacroix, Jean-Paul Gaultier, Christian Marclay, and Philip Taaffe, as well as Koons, but her most productive relationships were those with David Salle and Peter Speliopoulos—creative director for Donna Karan—whose sets and costumes, respectively, make up the bulk of the show. Monumental painted backdrops by Salle from a 1986 piece titled The Elizabethan Phrasing of the Late Albert Ayler (1986) dominate Mana's vast Glass Gallery. These run the gamut from the figurative to the abstract; one sunny orange composition suspended from the ceiling features graphic inlaid paintings of a gumball machine and a kitchen juicer, another strikes a more minimal tone with a grid of sky-blue Albers-esque squares against a cloudy gray background, and another portrays a brooding romantic scene of ships at sea.
Installation view, "Making Art Dance". Pictured: David Salle backdrop and costumes for The Elizabethan Phrasing of the Late Albert Ayler (1986). Photo by Joe Schildhorn / BFAnyc.com
"David has a great theatrical instinct," Armitage told me. "He can listen to music and immediately conjure up images to express the subconscious side of the music—its emotion and energy. He [finds] a balance between exuberance and restraint that gets under the skin emotionally." Positioned in front of Salle's sumptuous sets are mannequins, dressed in the ballets' accompanying costumes. Does Armitage's choreography ever get lost amid all this visual splash? Speaking of her work with Peter Speliopoulos, whose costume sketches receive their own section in the show, Armitage points toward a careful symbiosis between the art and dance: "He makes lots and lots of sketches and I choose my favorites based on a balance of making sure the body can be seen very clearly, so that body language itself is expressive on its own terms while being enhanced by great color and shape through design."

Peter Speliopoulos, costume sketches.
The marriage between art and dance has long been inscribed in the annals of art history; dancers at Diaghilev's Ballet Russes performed amid work by Matisse, Picasso, and Dalí; Cunningham teamed up with Robert Rauschenberg and Jasper Johns; Dustin Yellin and JR recently collaborated with the New York City Ballet; and this summer the acclaimed choreographer Wayne McGregor will join forces with Olafur Eliasson. But what lies beneath this chemistry between art and dance? "Artists seem to have their finger on the pulse of culture," Armitage says. "They can do very personal, original, and penetrating work as only a collector or two can allow them to survive financially, unlike in the performing arts where you need a large consensus... I chose artists and designers whose sensibilities fit the atmosphere I am creating, so that they are free to be themselves and explore new ideas."
Tess Thackara is Artsy's Writer-at-Large.
TEFAF TWENTY
Showcasing World-Class Exhibitors & Objects
Sponsored by TEFAF TWENTY