Playing to Its Strengths, Independent Delivers the Art-Fair-Meets-Exhibition We Hoped to Find
Founded in 2010 by Elizabeth Dee and Darren Flock, Independent is celebrated for its unique curatorial concept—art fair meets exhibition. Those lining up for this sixth edition were no doubt lured by its reputation for small, curated projects and intermingling of emerging and established galleries in an open space (sans demarcated "booths"). They were also among the last to attend the fair at Center548, Dia's former Chelsea space. But the fair moves on to a yet-undisclosed new location on an extremely high note. 
Less than a half hour into the fair, I pass Susan and Michael Hort descending the slippery, snowy staircase from the fourth floor, and make my way up as well. They are among a slew of high profile artists, collectors, and curators—
Maurizio Cattelan
, Massimiliano Gioni, Cecilia Alemani, and Beatrix Ruf, among them—who made a point to turn up early. Anita Zabludowicz snaps a photograph of a voluptuous painting by 
Marjorie Strider
, and I wonder if the work is destined for her walls or her infamous 
Art Diary
.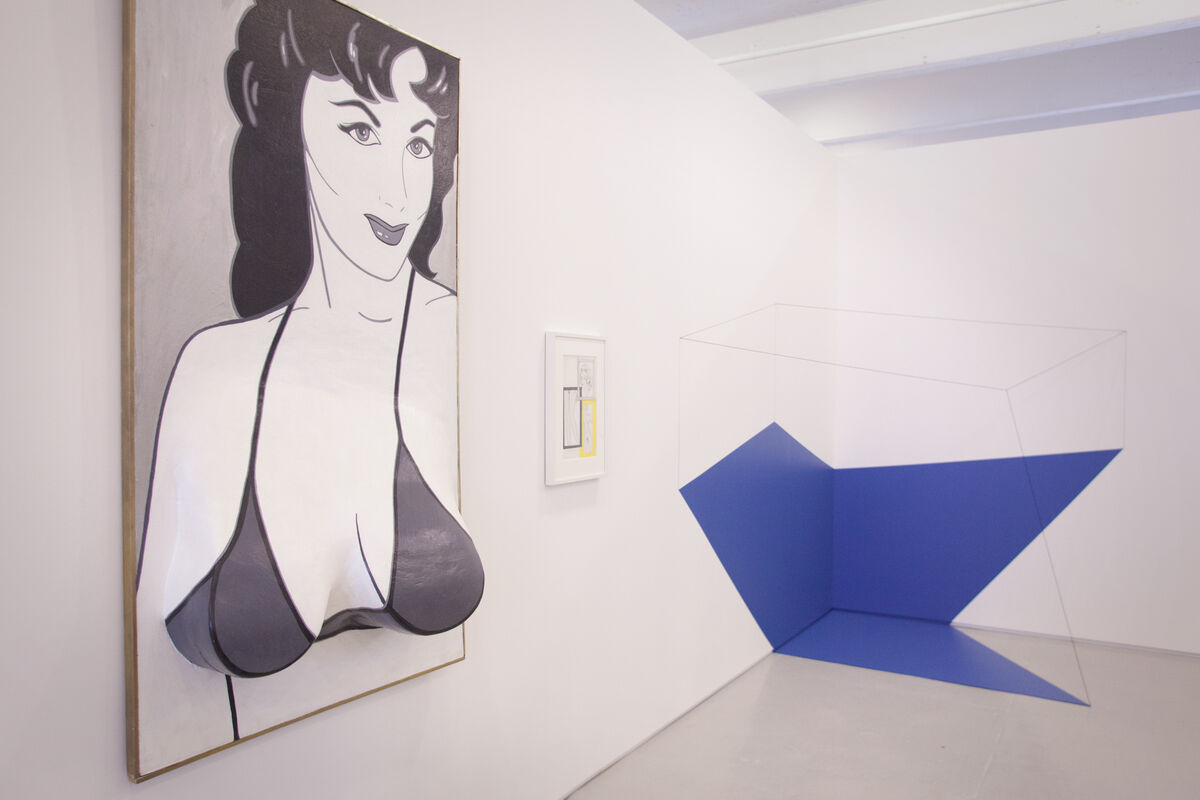 Throughout the fair, the two words rolling off of everyone's tongue are experimentation and curation. Andreas Gegner, Director of Sprüth Magers's London gallery (who's headed to L.A. after the fair to make headway on the renovation of their forthcoming West Coast outlet), tells me that, for the gallery, Independent is a fair for showing cutting-edge work by younger, mid-career artists to collectors with open mindsets. (The gallery shows the more established program at Armory.) Early in the day, there's high interest in a piece by
Sterling Ruby
. "This is a new type of work for Sterling; a tapestry from a series he just began. We don't show his spray paintings here," says Gegner. "I think it is a good fit for the setup of Independent. You make encounters with art that you never would have expected." On a similar note, Karma gallery is showing work by Robert Grosvenor—known for his sculptures, like the ones in the show opening tonight at the gallery's SOHO space—though the booth is filled with the artist's lesser-known but stunning color photographs.
Peres Projects
, Berlin has paired work by
Mark Flood
and
Mike Bouchet
for an evidently curated Independent booth. (The gallery has been fundamental in both artists' reprise over the past two years.) "Because it is typically a small amount of work that we're showing, we decided to focus on two artists whose practices are in many ways very different, but intersect on one common thing: consumerism and consumer culture, specifically from an American point of view," says director Nick Koenigsknecht. "This seemed like the perfect place to show them together for the first time. Whereas at most fairs, it would be a nice aesthetic choice to pair them, you wouldn't talk about it from a conceptual or intellectual point of view with clients. Here, people expect to hear why you put them together."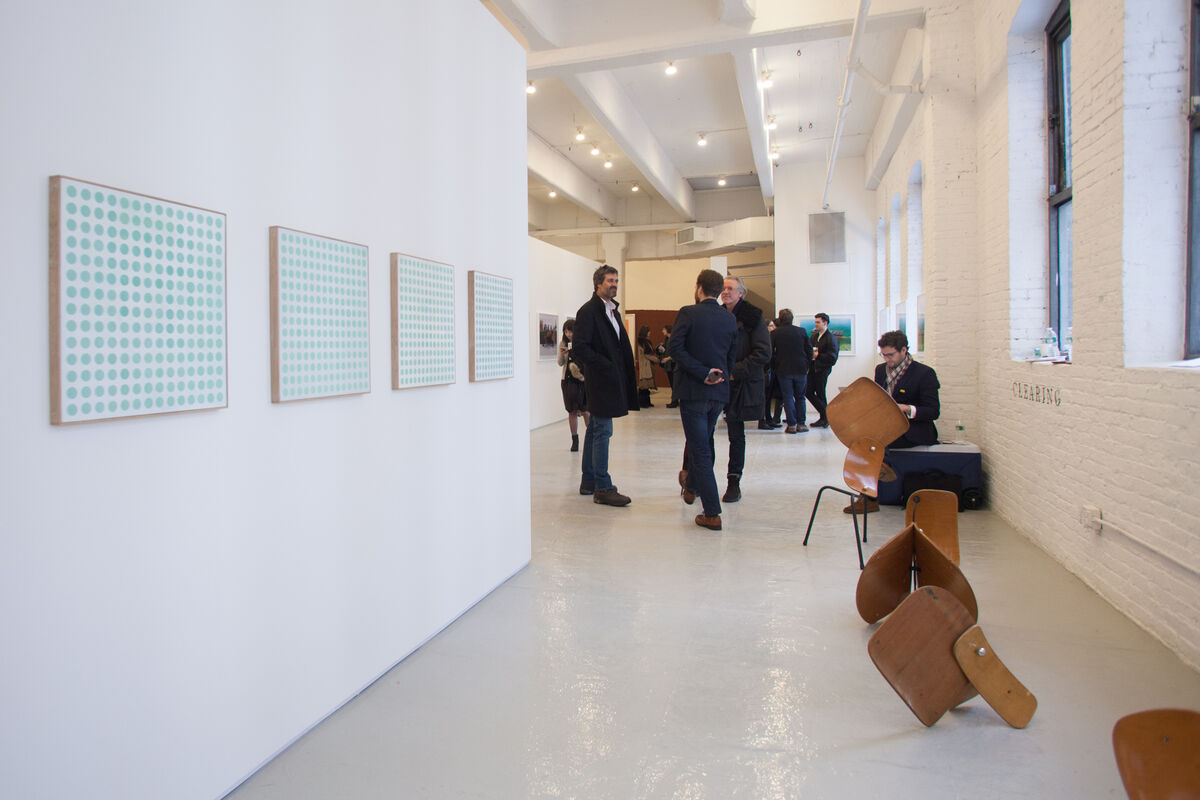 In another dynamic pairing,
C
L
E
A
R
I
N
G
gallery shows two European artists, Belgian sculptor
Koenraad Dedobbeleer
and French painter Loïc Raguénès. "We have this suprematist constructivist battle—these very standard 1950s chairs that have been deconstructed, and these beautiful washes on wood that play with light, space, and the economy of paint," Director Olivier Babin says. A few floors below, Galeria Plan B shows a grouping of drawings and sculpture by Moroccan artist
Achraf Touloub
and Iranian artist
Navid Nuur
. Directors Mihai Pop and Mihaela Lutea note that they've seen collector interest right away.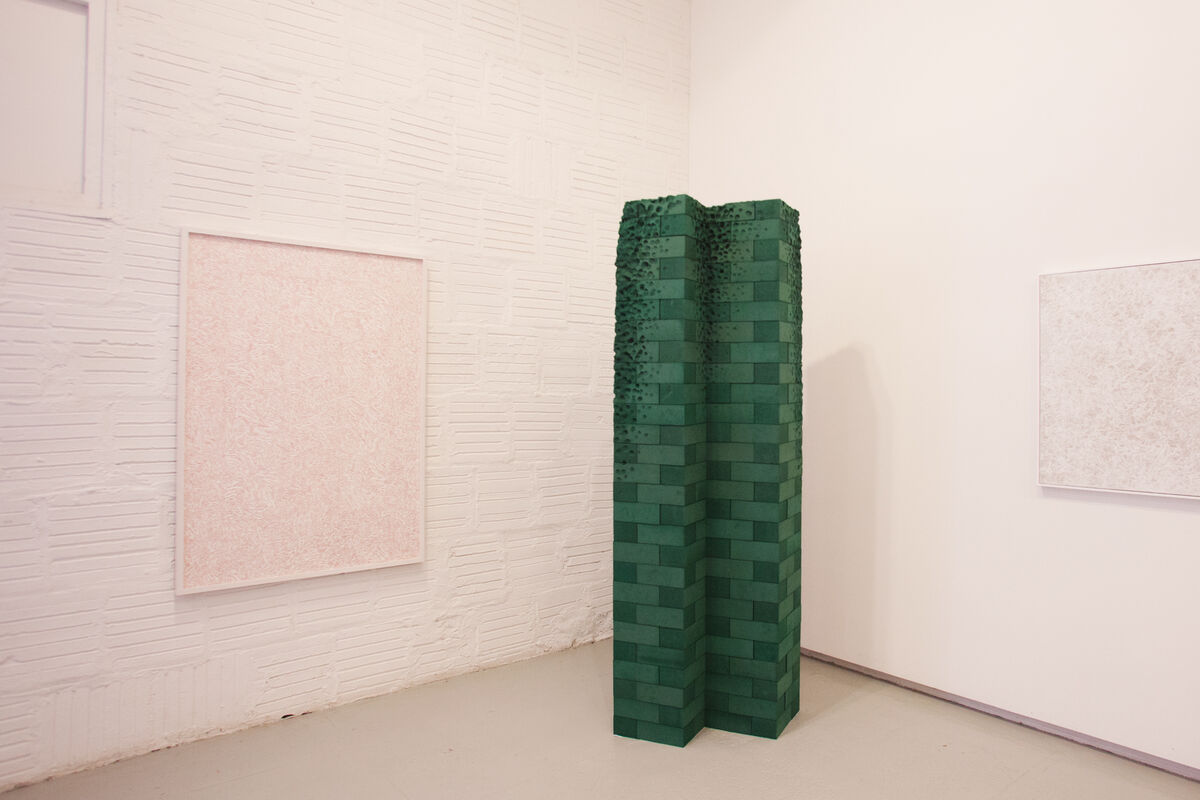 There's no shortage of sculpture among the works on view, beginning with the impressive opener to the fair—a
Leo Gabin
installation beside two paintings by the BelgianCK collective at Elizabeth Dee. One of the best overall presentations can be found at Galerie Emanuel Layr, where three works by French artist
Lili Reynaud-Dewar
perfectly command the space: a bean bag, a video of the artist dancing naked in an institution, and glass panels with silk scarves, the latter referencing the artist's solo show at
New Museum
last fall.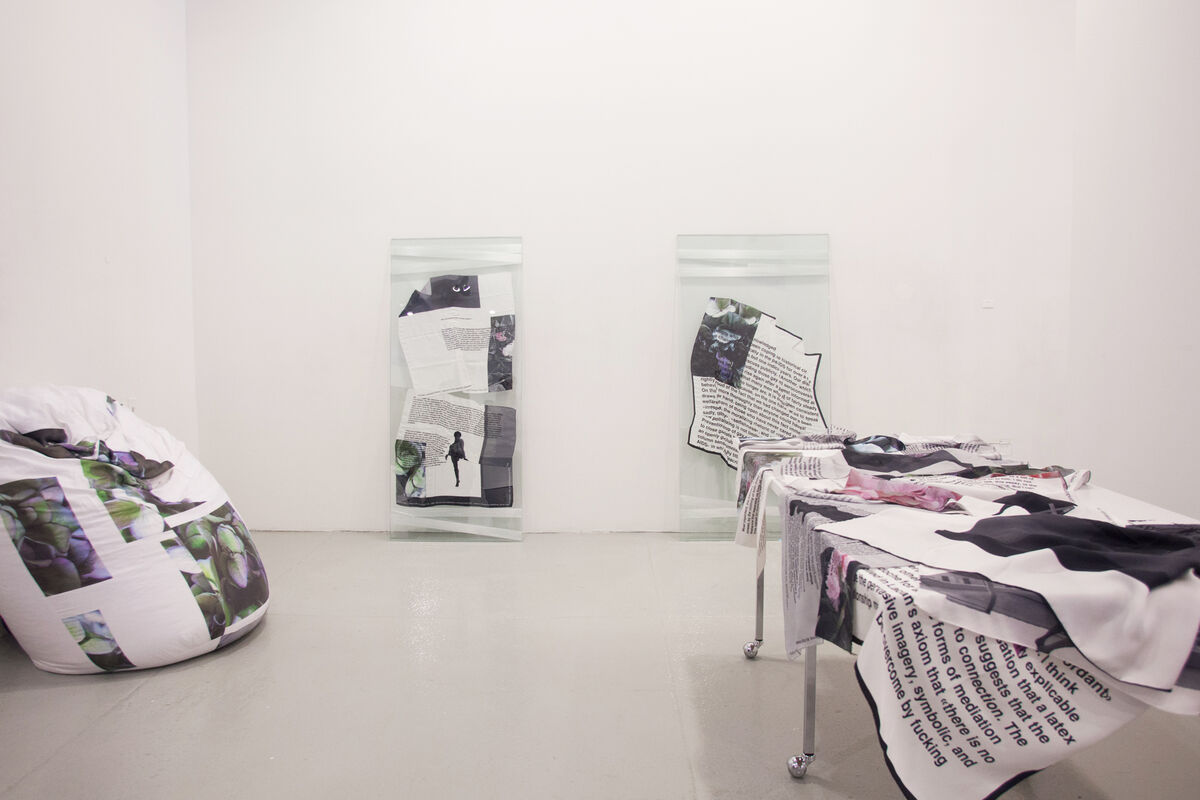 At
White Columns
, two soft sculptures by Terry Williams, which vaguely resemble a mask and an espresso machine, respectively, sold within the first half hour. Those works also spurred the sale of six sculptures from the artist's exhibition ahead of its opening at the gallery's West Village location tonight. Eighteen of 20 unique casts of Gavin Brown's right hand (the first time the gallerist has shown work in New York since 1995) had also been acquired from White Columns's stand by Thursday afternoon. "It's going amazing," Matthew Higgs, Director of the non-profit space and Creative Advisor of Independent tells me, hardly containing his opening-day excitement. "White Columns is here to introduce people to new work, raise money to support the organization, but also to create economies for artists—particularly artists with disabilities, who don't necessarily participate in the general economy for contemporary art." 
Among other brisk and early sales, Tommaso Corvi-Mora reported significant collector interest in his gallery's works by Pakistani artist
Imran Qureshi
—a painting priced at $39,000 had quickly sold, a similar painting was on hold for an institution, and he'd sold three of the artist's works on paper, priced at $15,000 each. Not far away, at The Modern Institute, two figurative works by young Swiss painter
Nicolas Party
—whose paintings start at around $20,000—had also been snatched up.
Despite the snow, given the momentum of the morning, it seems, for all, the opening day was full of wins. "I think it really is a nice counterbalance to the other big fairs that are happening this week in New York. One can't exist without the other," Koenigsknecht had told me. "If you can judge a fair by the things that you would want to buy yourself, that is a very high quality fair." According to his metrics, I'd have to agree.
Independent is on view March 5-8, 2015. 

Molly Gottschalk is Artsy's Lead Visuals Editor.