Rona Stern's Remixed Icons Question the Structure of Power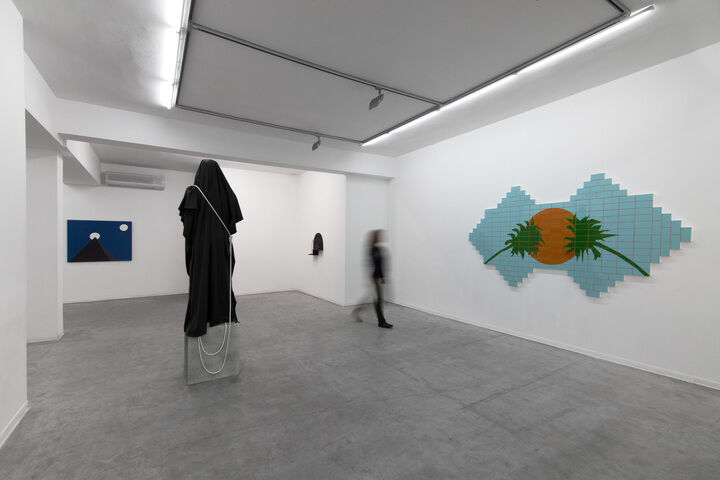 Stern is interested in icons, especially ones from the Middle East; the prints, paintings, and sculptures in the exhibition, titled "
Oasis
," are full of them. Though most of these images are now universal, a viewer's understanding of each one is shaped by the time and place in which they live.
An American viewing an obelisk, for example, might think of the Washington Monument, while an Egyptian might be reminded of its origin as a pillar set at the entrance of Egypt's ancient temples. Even the moon, known to everyone, resonates differently from viewer to viewer. It is exactly this dissonance—between various understandings of iconic images and architectural structures, and between their original and contemporary purposes, uses, and meanings—that the artist capitalizes upon and teases out in her work.
Given the content of her works and the context in which they are made, the exhibition possesses a political charge. Oasis is itself a multivalent word, and also serves as the title of one of the pieces in the exhibition, one which exemplifies the layers of meaning built into all of the artist's works. Featuring an image of a copper sun flanked by two green palm trees, silkscreened onto a ground of white tiles, Oasis (2014) is a deceptively spare piece. It is inspired by a triumphal arch built by Saddam Hussein in 1989, commemorating his leading of Iraq to victory in its war with Iran. Unlike Hussein's arch, however, Stern's offers no passage beneath. Further, it is composed of tiles that resemble those covering Israeli apartment housing projects from the 1970s, and features motifs as common to Israel and other warm weather climes worldwide as they are to Iraq. Such a blending of references—to the safety and comfort of home, notions of paradise, or the terror of war and power—reflect the way that even the most iconic images become altered over time and space, and, sometimes, are stripped of their power.
"Oasis" is on view at Hezi Cohen Gallery, Tel Aviv, Jan. 1-Feb. 7, 2015.
Stir Creativity
See how Bombay Sapphire supports artistry.
Sponsored by Bombay Sapphire