What Sold at The Armory Show?
As Armory Week approached this year, organizers and dealers alike admitted to being more than a little nervous about their prospects. A wintery mix on Wednesday and whiteout conditions on Thursday weren't exactly the whisper of spring's imminent arrival that often accompanies The Armory Show to help bolster sales. But, despite research that suggests cold temperatures, snow, and lack of sunlight can have seriously detrimental effects on consumer spending—and particularly on impulse shopping, which, let's face it, is what exceedingly good fair results often rely on—sales were numerous on Piers 92 and 94 this week.
Results have not been the heady, Art Basel-like affair of eight-figure prices. At the time of writing, only one seven-figure sale had been recorded: $2 million for a choice
Concetto Spaziale, Attese
(1968) in white at
CARDI GALLERY
. Its twin is also on offer at the gallery's booth along with works by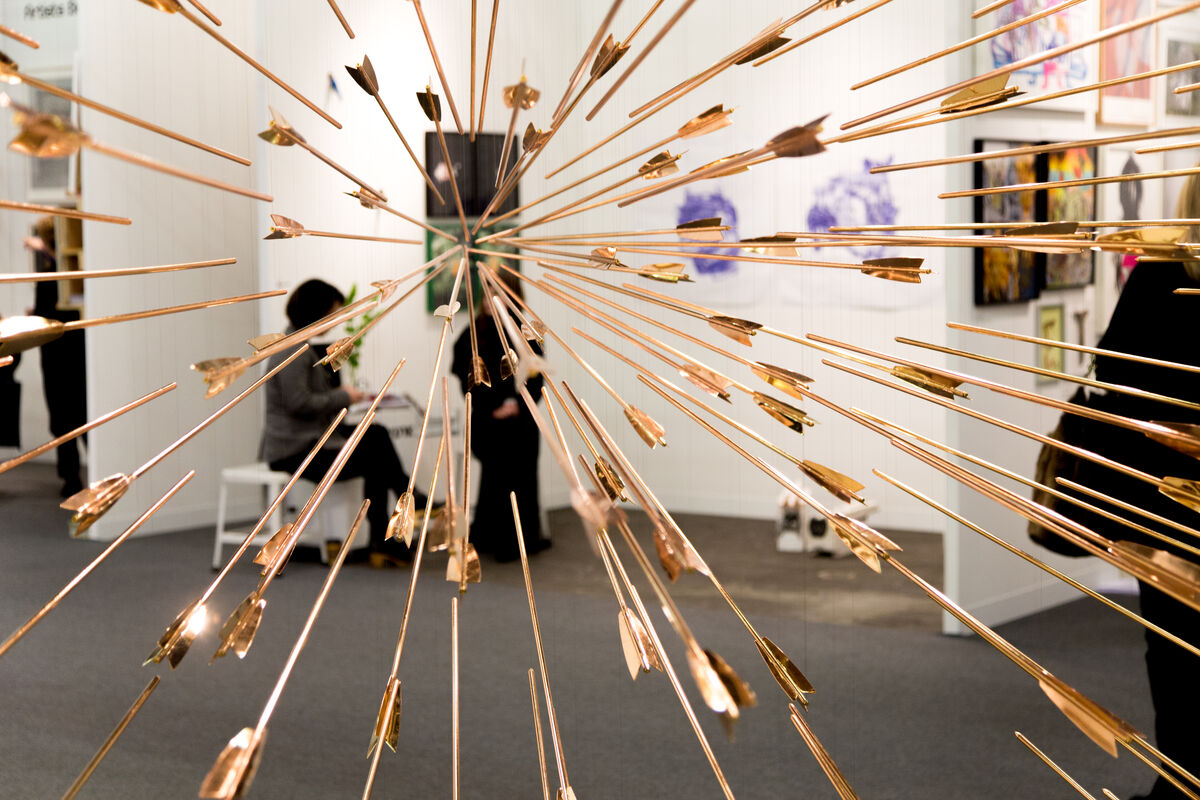 Perhaps thanks to theirs being the most Instagrammed booth of the fair (save
Honor Fraser
saw significant buyer interest in their
A Shout Within a Storm
(2014), made up of some 149 copper-plated arrows. The piece, which has variable dimensions depending on a collector's spatial constraints, was commissioned by multiple eager buyers at a price of $130,000 a pop.
Kaino was only rivaled in 'gram feed penetration by
James Fuentes
's presentation of
Throughout Pier 94, works in the middle range of the market, priced between $20,000–$100,000 appeared to be faring best, which was a slight surprise considering the plethora of affordable pieces that were a hallmark of The Armory Show this year. Berlin gallery
Johann König
did particularly well in that range, selling a
Refolding
, 2014) for $75,000, two editions of
YOU ARE SPECIAL
(2014) at $40,000 a pop, four sculptures by
Wertdifferenz (in 365 Tagen und 100 USD)
(2015), for $26,000, and two mirror works of differing sizes,
figure
(2014) for $21,000 and a larger example for $26,000, that the gallery had been planning on bringing to Frieze New York.
As the weekend arrived and the end of Armory Week was within sight, Frieze seemed to be on the tip of many foreign dealers' tongues, priming collectors for the next opportunity to acquire. At
Victoria Miro
, director Elke Seebauer was excited to plug their Venice Biennale-heavy booth forthcoming in two months. (Gallery artists
A similar smattering of sales was reported by
Sean Kelly
. The gallery placed works with collectors by nearly every artist they were showing including: an
Alexander Forbes is Artsy's Executive Editor.