Yayoi Kusama, In Two Dimensions
To view these prints is to glimpse into Kusama's creative mind, which is a thrilling, if overwhelming, exercise. Based on small paintings, the prints have in turn served as drafts for other, future paintings, teased out on a larger, often more-colorful scale. In
girls AAA (2011)
, a whirlwind of purple eyeballs, red-dotted eyelashes, and bespeckled faces converges into a striking display of color and form. Profiles of female characters overlap and intermingle, each identity obscured by its own color-block, cartoonish rendering. Lips, strands of hair, and decorative details are tinged red-orange—a color that has come to be emblematic of Kusama herself (
she dons a bobbed wig in the same color
). Repeated motifs expand in all directions, and it's not hard to imagine this image translating into a massive painting or social-media-friendly installation—all dizzying shapes and scintillating colors.
A tireless creator and innovator, Kusama uses printing processes that span from silkscreen and etching to embossing and stenciling. In Seeking the Beautiful Eyes (2012), the same sketched-up characters, spidery lashes, and cheerfully dotted forms appear. The print could read like a pop-y children's book illustration, if not for its certain sinister, Tim Burtonesque edge. Clusters of red and teal beads outlined in black appear across the frame, like neurons engaged in synaptic activity.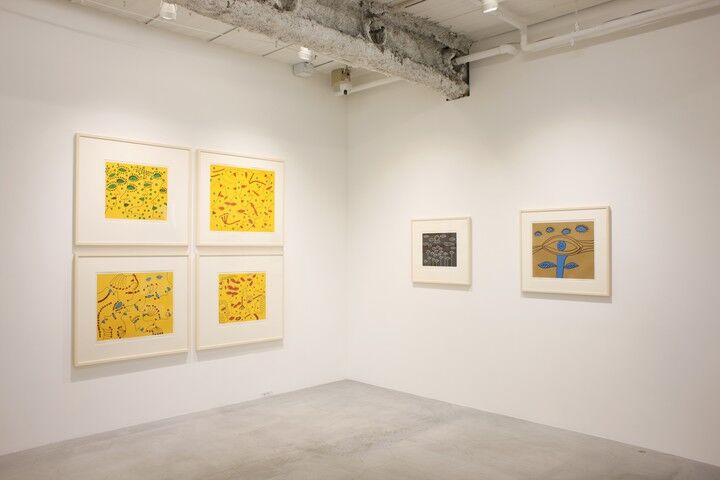 While these prints don't necessarily
communicate a "cosmic vision"
or prompt viewers to engage on the same immediate level as an immersive room of mirrors may, the images are pleasing in the same sensory-rich, unmistakably Kusama way. For dedicated fans and thoughtful visitors, viewing Kusama's two-dimensional practice will be a rewarding, if amusing, exercise.
Installation views of "Yayoi Kusama: Prints Part 2," courtesy of Ota Fine Arts.