Nepal Quake's Cultural Heritage Destruction Amplifies the Tragic Loss of Life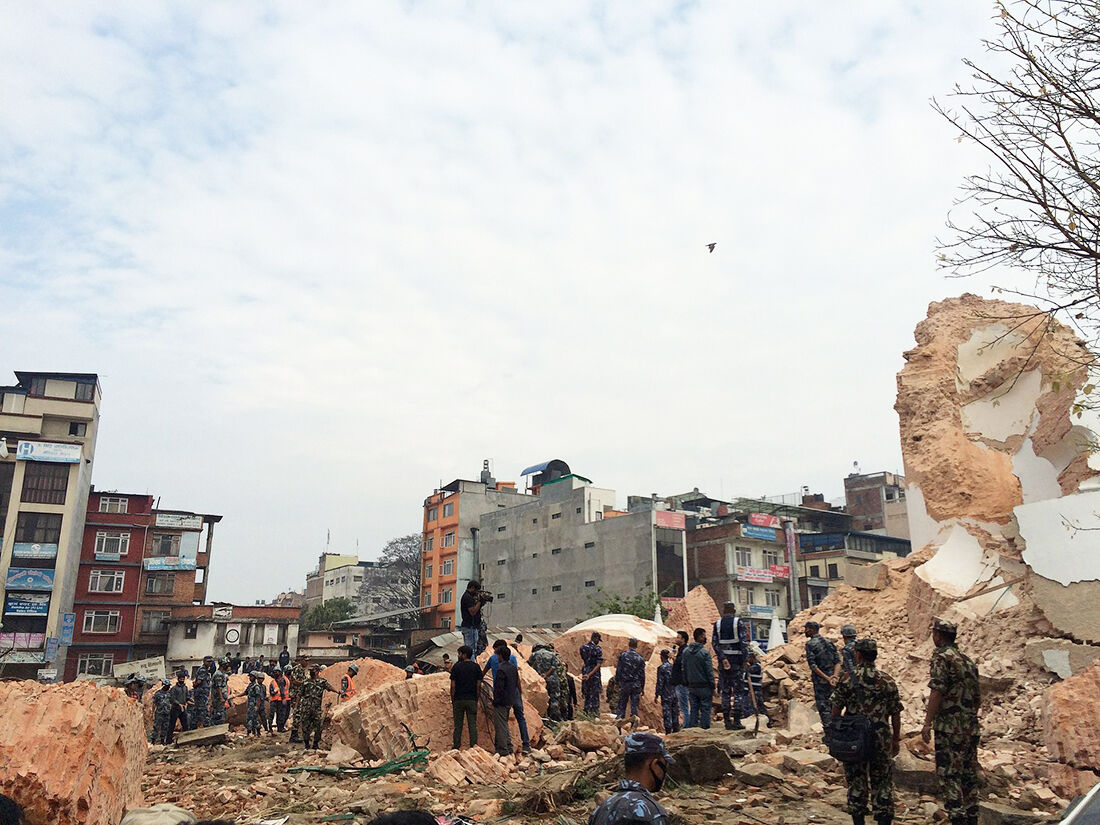 The remains of the Dharahara Tower following the earthquake. Photo: Nirjal Stha via Wikimedia Commons
Yet it's important to highlight the devastation to cultural heritage as well. UNESCO's head representative said Monday that she was not aware of any modern natural disaster that had inflicted so much damage to heritage sites. The entire Kathmandu Valley is a UNESCO World Heritage Site.
At present, many of the damaged buildings, monuments, statues, and other artifacts are being cast aside hastily in the search for bodies or to clear areas of debris. Photographs have shown pieces of historical structures being used as tools in the rescue process as well. In some cases, looting has occurred: parts of buildings have been taken for what may be sentimental reasons, and artifacts have been discovered en route to being offered for sale. Looting has been difficult to protect against because authorities on the ground are needed for more urgent reasons—and the damage is extensive.
According to UNESCO, the valley's cultural heritage is an exceptional testimony to the region's traditional culture, which flourished from 1500 to 1800 C.E. The culture uniquely combined Hindu and Buddhist traditions and developed one of the world's most advanced uses of stone, timber, brick, and bronze. Such artistry influenced Mongolian and Tibetan societies, which hired artisans from the Kathmandu Valley to share their expertise.
The region's most important structures are located in what are referred to as the seven "monument zones" of the valley: the urban centers ("Durbar Squares") of Kathmandu, Patan, and Bhaktapur, and the four religious ensembles of Swayambhu, Bauddhanath, Pashupati, and Changu Narayan.
The 200-foot-tall Dharahara Tower before the quake. Photo: Anik Yadav via Wikimedia Commons
While the damage is still being assessed, sometimes via drone photography, "several monuments are in complete debris and many are badly damaged," reports Jan Van Alphen, director of exhibitions, collections, and research at New York's
Rubin Museum of Art
, which is dedicated to the art and ideas of the Himalayas, India, and surrounding areas.
Among the damaged sites are parts of the Swayambhunath complex, several temples and monuments in Kathmandu's and Patan's Durbar Squares, and the Dharahara, a 200-foot tall tower that collapsed with hundreds of tourists inside. Dramatic before-and-after photographs of these sites can be seen at the 
New York Times
and
NPR
.
According to Van Alphen, around 50 sites were undergoing restoration, which began in 1991. Many of the sites had been damaged as a result of the Nepal-Bihar earthquake of 1934. Now these sites have to start again from almost zero, if restoration work can resume at all.
What's also very important for foreign audiences to understand is that these historic sites—particularly the religious ones—were still very much part of everyday life. Van Alphen explained: "Recently after having dealt with an artwork from the Kwa Bahal or Golden Temple in Patan, I visited it, and was incredibly surprised by how lively the worship still was. This is the case in all of these shrines, despite the fact that tourists might be there. People do have their own home shrines, but the temples offer them historically important objects and paintings, which show them divinities who are their protectors. People will find ways to compensate, but it's a significant loss if these things are not there."
Stir Creativity
See how Bombay Sapphire supports artistry.
Sponsored by Bombay Sapphire