30 Years On, Berlin's EIGEN + ART Continues its Fight Against Convention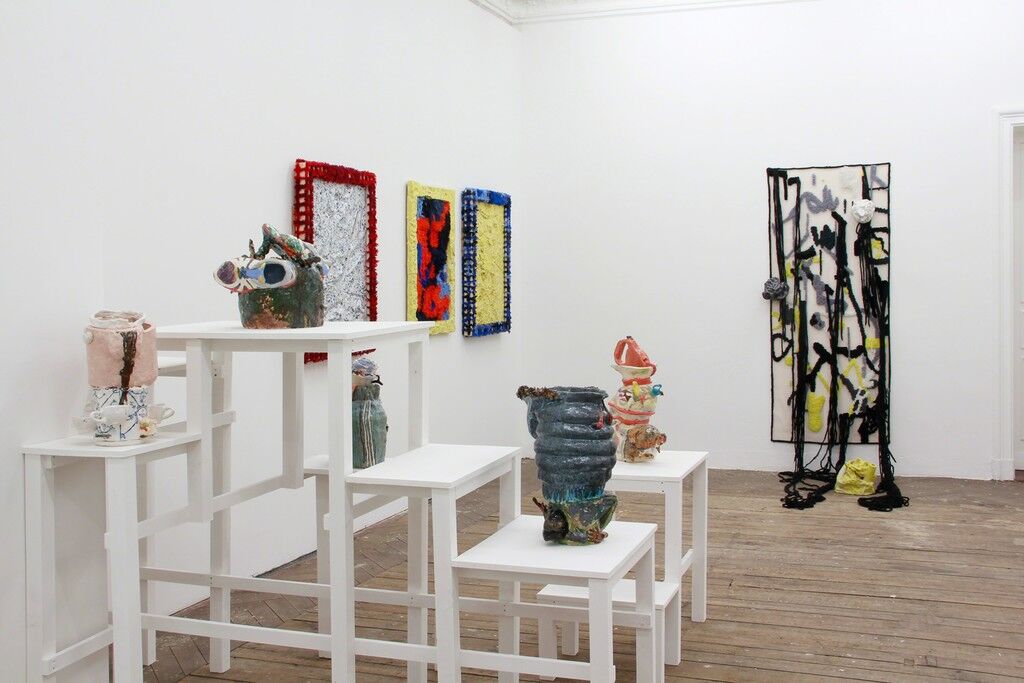 EIGEN + ART takes seriously the obligation of art to move culture and society forward. The established main gallery of EIGEN + ART has grown to be a tastemaker in its own right, near singlehandedly launching the careers of artists such as
In 1983, Gerd Harry Lybke (better known in the art world as Judy) began EIGEN + ART in his apartment at Leipzig's Körnerplatz. "That was during GDR times," he tells me of the gallery's beginnings. "I gave artists—who weren't allowed to exhibit [by the government]—a platform to present themselves." It was during that time, often in illegal exhibitions, that he showed artists like Jörg Herold and
As the stock of many within Lybke's stable of artists has risen within the art world, the role of the gallery has matured as well. It has been lucky in that many of the artists have kept EIGEN + Art as their mothership throughout the entirety of their careers. Looking to foster the next generation of EIGEN + ART's success, Lybke recently handed the Lab over to the gallery's two directors, Anne Schwanz and Johanna Neuschäffer.  
Together, Schwanz and Neuschäffer have developed a concrete aim for the new project space. The pair emphasizes that they are focused on offering, as Schwanz explains, "a place for the artists to grow," adding, "we have freedom here." Their excitement about the opportunities that the Lab affords is infectious and motivated by the same energy that inspired Lybke to begin his gallery over three decades ago.  
"The Lab has a clear mission," adds Lybke, "to carry and advance the idea of EIGEN + ART," and focus on "the artists and their development." "We want to carry this message to the next generation." says the dealer. "The Lab offers us the opportunity to go one step further than we could within the traditional day-to-day business of a gallery; we initiate new and suspenseful projects and encourage and inspire artists to experiment."
That said, Berlin in 2015 does not face the same challenges of pre-unification Leipzig. While the gravity of the city's issues seem to pale in comparison to the struggles of presenting unsanctioned work under communist government rule, there are still conflicts and positions to be taken. The first exhibition at the Lab's new location, "
It's oh so cute
," featured Nora Arrieta, Charlotte Dualé, Keiyona C. Stumpf, Marianne Thörmer, and Eric Winkler—all of whom are under 35 and work with ceramics in some capacity. The exhibition felt like an affront to the current climate of art that hides its hand, and comes off as closer to industrial design than craft. The majority of the artists who were included in the inaugural show are women—a rare but simple gesture that elegantly addresses an issue that is persistently commented on and rarely acted upon in the art world.
The current exhibition of large paintings by British artist Ross Chisholm demonstrates that there is a place for loose and figurative painting in a city that is known more for artists working digitally and with forms of technology. Chisholm's haunting canvases have a distinctly Expressionist influence, while concurrently feeling extremely of our times. The work is challenging and requires patience—qualities in art that that are not inherently valued at the moment. Presenting this work during Gallery Weekend Berlin, a time when traffic in the galleries is high and time is at a premium, is an apt counterintuitive position and one that echoes the original intent behind EIGEN + ART.
—Max Schreier