A Brief History of Surrealist Master Salvador Dalí
One of the most famous figures in art history, 
A self-proclaimed megalomaniac, Dalí created highly personal paintings with dreamlike imagery ripe for Freudian analysis. "It is perhaps with Dalí that for the first time the windows of the mind are opened fully wide," remarked the Surrealist leader 
Why does his work matter?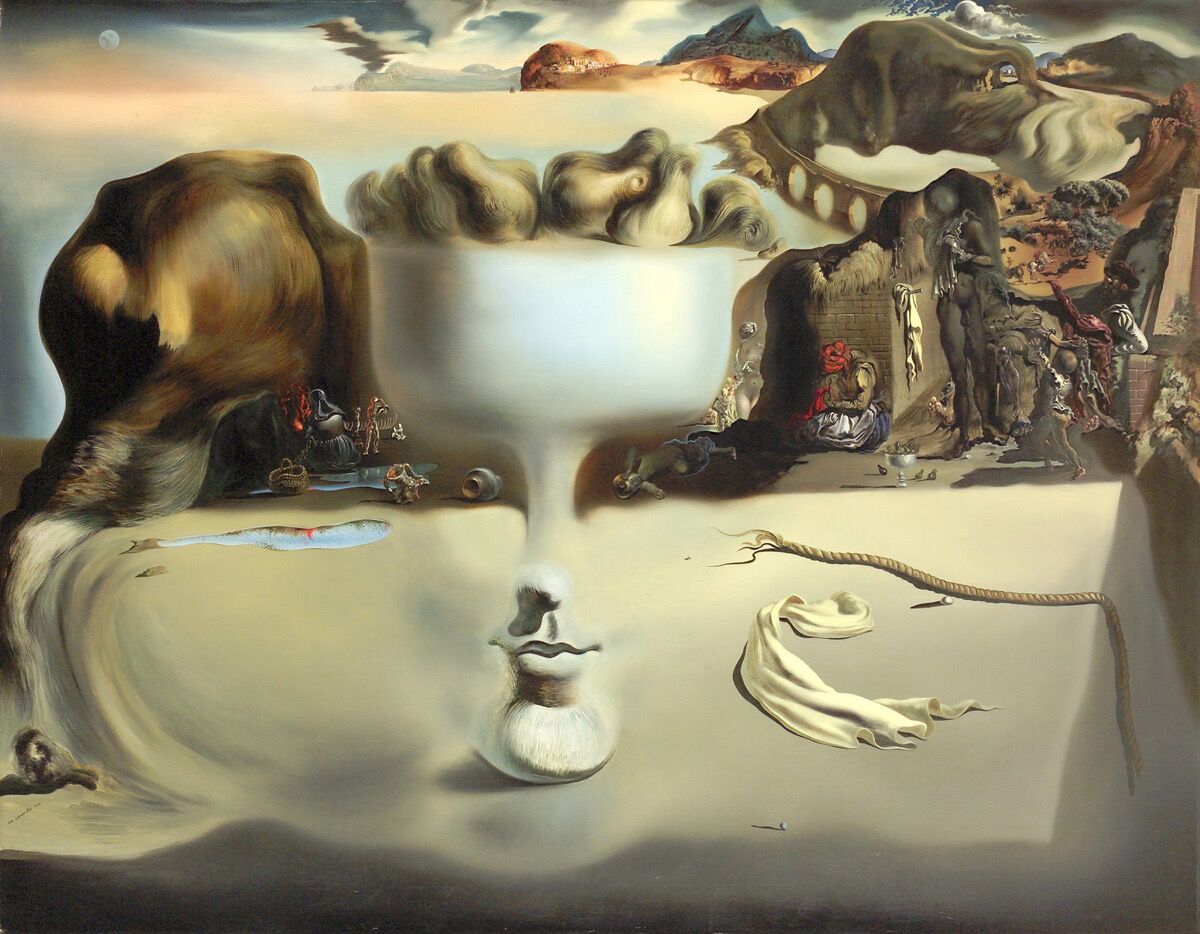 Salvador Dalí, Apparition of Face and Fruit Dish on a Beach, 1938.
In art as in life, Dalí broke with conventions and forged new artistic languages and methods capable of examining human psychology. His career began at the Madrid Academy, where he was expelled for inciting a student protest against a painting professor who Dalí considered to be a mediocre artist. Driven by a desire to upend the rational and liberate the psyche, Dalí moved to Paris in 1929 to join the Surrealists. That same year, he collaborated with the Spanish director Luis Buñuel to create the first Surrealist film, Un Chien Andalou (1929), an absurdist montage of disconnected images, which included biking nuns, decaying donkey carcuses, and a razor-cut cow eye. Though he shared their artistic mission, Dalí disfavored the Surrealist practice of
In the 1930s, Dalí developed the first Surrealist objects, such as his now-iconic lobster telephone, as well as a new practice of image-making, which he named the "paranoiac-critical method." Pictures of this kind featured optical illusions and double images, which could be interpreted in multiple ways. The most famous example of this technique, Apparition of Face and Fruit Dish on a Beach (1938), features a bowl of pears that double as a woman's forehead, while the mountainous landscape behind her also resembles a brown-and-white dog. These "paranoiac" paintings challenge audiences to consider how their own viewership can be contradictory and illogical, though Breton dismissed them as mere "crossword puzzles." While Dalí's use of
Escaping World War II in 1940, Dalí moved to America, cultivating a fame and fortune that earned him the anagrammatic nickname "Avida Dollars." In his eight years in the States, Dalí designed shop windows for Fifth Avenue, collaborated on set design for ballets, worked on two Hollywood films (Alfred Hitchcock's Spellbound, 1945, and Walt Disney's Destino, 1945, released 2003), and authored two books—in addition to his prolific output of painting and sculpture. In America, Dalí capitalized upon mass media culture—appearing in television advertisements, designing magazine covers, and collaborating with the iconic photographer 
What inspired him?
The psychoanalytic theories of 
Sigmund Freud
 grounded the artistic pursuits of the Surrealists. Freud's work was especially important to Dalí, whose family life could not have been more in need of an analyst's couch. Dalí was named after his older brother Salvador, who had died nine months before his birth. His parents believed that Dalí was his brother's reincarnation, leaving the artist with the feeling that it was not he, but rather the memory of his older brother who was loved by his parents. When Dalí was a teenager, his mother died from cancer, and four years later his father married his mother's sister, Tieta.
Dalí's tumultuous family life escalated yet again in 1929, when Dalí titled one of his paintings Sometimes I Spit with Pleasure on the Portrait of my Mother (The Sacred Heart), which so angered Dalí's father that he expelled the artist from the family. These events underlie some of his darkest and most disturbing paintings, and his personal history would continually surface in his iconography, as objects from his past were later re-imagined as opened drawers, decaying foods, and melting clocks. "The only difference between immortal Greece and the present time," explained Dalí, "is Sigmund Freud, who discovered that the human body...is today full of secret drawers that only psychoanalysis is capable to open."
Dalí's Catalan upbringing inspired him throughout his long career. Depictions of his hometown landscape—the Ampurdán Plain—and references to Roman Catholicism recur in his work. The Catalan passion for food may also have contributed to Dalí's tendency to transform objects into edible or melting forms. "Christ is like cheese, or, to be more precise, like mountains of cheese," he once explained. Enamored by the legacy of Spanish painting, Dalí filled his private library with volumes on 
Why are we still talking about him today?
Decades after his death, the brand name of Salvador Dalí has not declined. His curved mustache—recently 
voted
 to be the most famous example of facial hair of all time—has become a household symbol for artistic invention, and can be found on coffee mugs and in costume stores worldwide. While his celebrity persists, it's perhaps more surprising that Dalí's paintings continue to shock audiences half a century after their creation. While many of his avant-garde contemporaries have lost their taboo factor, Dalí's works are still disturbing to the modern eye, as viewers seek to uncode their grotesque, dreamlike contents. "The only difference between me and a madman," Dalí famously once quipped, "is that I am not mad."