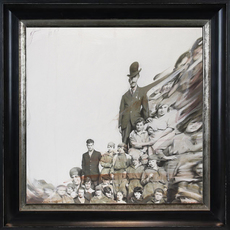 Adam Vinson
American, b. 1978
See all past shows and fair booths
Bio
Born in Wilkes-Barre, PA in 1978, Adam Vinson began his formal training studying commercial illustration at Luzerne County Community College. There he befriended a young instructor whose invitation to pursue a more comprehensive examination of drawing and painting transpired into a three-year course of instruction under the tutelage of Anthony Waichulis. Upon finishing the curriculum, he enrolled in the storied Pennsylvania Academy of the Fine Arts. His experiences within those halls broadened his appreciation of the artist's capacity for innovation beneath the weight of a dense and capricious art history.
Having achieved recognition as a still life and trompe l'oeil painter, Adam's symbolic interplay of contemplation, humor, and irony became a distinguishing hallmark of his early oeuvre. But his deference for what he regards as the "fickle nature of the muse, who may whisper in an ear one moment and stomp on a toe the next", has encouraged him to explore the profundity of each picture in the absence of a genre's directive.
Adam's work has been featured in publications including American Art Collector, American Artist, Southwest Art, Stroke of Genius and American Arts Quarterly. In 2009, Vinson was the recipient of the third place award in the Smithsonian National Portrait Gallery's Outwin Boochever Portrait Competition. In 2016, he accepted the honor of third place in The Portrait Society of America's International Portrait Competition.
Related artists