Alan Davie
Scottish, 1920-2014
165 followers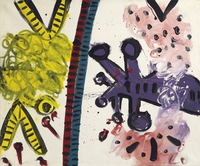 Reach for Joy II,1920-2014
101.9 x 122.2 cm
Alan Davie (1920-2014) _Reach for Joy II_ signed and dated 'Alan Davie OCT 1960' (on the reverse) acrylic on canvas 40 1/8 x 48 1/8 in. (101.9 x 122.2 cm.) Painted in 1960....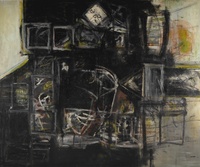 During the early 1950s, a time when British artists had limited exposure to the latest painting from America, Davie earned the reputation of being the nearest thing in England to an American Abstract ...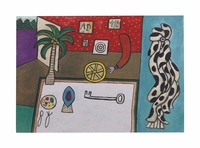 Magic Picture No. 36 opus G.1238,1920-2014
59.1 x 83.5 cm
Alan Davie (1920-2014) _Magic Picture No. 36_** **_opus G.1238_ signed, titled and dated 'MAGIC PICTURE NO 36 Alan Davie FEB 77' (lower left) watercolor on paper 23 ¼ x 32 7/8 in. (59.1 x 83.5 cm....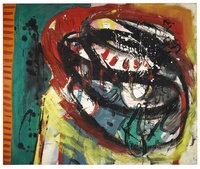 Alan Davie had as an insatiable curiosity for life and fervent will to create as David Bowie. He was as much in his element as jazz musician, scuba diver, gliding enthusiast, jewellery maker and poet ...
Sotheby's
November 10, 2016