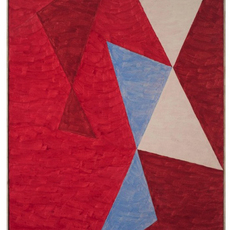 Alfredo Volpi
Brazilian, 1896–1988
Established representation
Represented by industry leading galleries.
Bio
Alfredo Volpi (Lucca, Italy 1896 - São Paulo, São Paulo, 1988). As a painter, he moved with his parents to São Paulo in 1897. In the 1930s he joined the Santa Helena Group with other artists - such as Mário Zanini and Francisco Rebolo, among others -, an association of artists fundamental to the consolidation of modern art in São Paulo in the 1930s and 1940s.
His initial production is figurative, with emphasis on the painting of marine scenes executed in Itanhaém, São Paulo. From the 1950s onwards, he began to perform compositions that gradually move towards abstraction. During this period, the constructive character of his painting is affirmed between the planes of the facades, roofs and landscapes. From the series of facades, the "bandeirinhas" or festive flags emerge. More than a popular motif, the flags become autonomous compositional elements. In 1957, he participated in the 1st National Exhibition of Concrete Art, but he never attached himself to the formal rigor of the movement.
In the 1960s and 1970s his compositions of flags were painted in between masts with a wide range of colors and rhythm. The tempering technique allows him to renounce the impersonality of the use of industrial paints and automated, mechanical work which concretists approach. The artisanal practice becomes, for Volpi, a resistance to automation and, simultaneously, an affirmation of his lyricism instead of the naive reiteration of the gesture.
In 1953, he received the award for Best National Painter at the São Paulo International Biennial, shared with Di Cavalcanti; in 1958, the Guggenheim Prize; in 1962 and 1966, was acknowledged by art critics in Rio de Janeiro as the best Brazilian painter, among others.
Related Artists