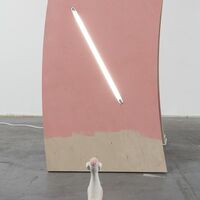 Anna K.E.
Georgian, b. 1986
Bio
Anna K.E.'s background as a ballerina informs her artistic practice, which concerns the relationship between objects and their environment, and how the latter can often define or limit the former. Through installation, sculpture, and video, the New …
See all past shows and fair booths
Artsy Consignments
Sell Works from Your Collection
Get competitive offers from the world's top auction houses and galleries to take your works on consignment. It's simple and free to submit.