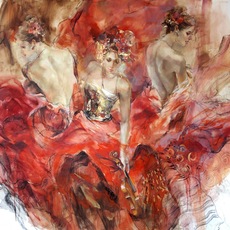 Anna Razumovskaya
Russian, ca. 1962
See all past shows and fair booths
Bio
Russian artist, Anna Razumovskaya is mostly recognized for her unique romantic figures paired with a trademark interlacing of quiet tones with the bright color. Resulting in an impactful scene of elegance and beauty. Anna's romantic figures consist of lovers, dancers, and musicians that nod to the Renaissance era. She calls forth old masters such as Reubens and Rembrandt. However, because of her expressive, dynamic technique, her figures are refreshingly modern.
Anna's artwork is mysterious enough to be fully understood only in the viewer's imagination. Her perfectly rendered figures are created with the use of extensive detail in the positive space while complemented by impressionistic backgrounds. Therefore, serving to more fully define the subject while contributing Anna's signature rich colors and evocative moods.
Classical music, and composers such as Bach and Tchaikovsky, shines through as muses. Her beautiful line work and flowing colors captures the movement of dance. Thus, Anna captures the pure essence of a timeless thing. She brings her audience into her mind's eye. One can feel the emotion and power of the song without any music playing.
Anna Razumovskaya graduated from Russian State Academy of Fine Arts in 1991 as a Master of Fine Arts. She then continued her studies in Germany, Belgium, and Holland and has had personal exhibitions in the United States, Canada, and Europe. She currently lives and works in Toronto, Canada where she feels is her real home.
Related artists