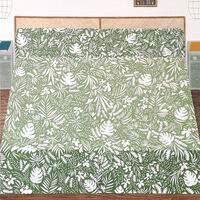 Becky Suss
American, b. 1980
Established representation
Represented by industry leading galleries.
Bio
Becky Suss chronicles interiors and landscapes, devoid of people but rich with their traces. For her first solo museum exhibition at the Institute of Contemporary Art at the University of Pennsylvania in 2015, rooms and details from relatives' homes were reimagined either life-size or three-fourth scale in densely patterned paintings and ceramics. In conversation with ICA Assistant Curator, Kate Kraczon, Suss notes she is interested in "this notion of something existing simultaneously as documentary and as something that feels like art or poetry or something else." By plumbing family history funneled through the hazy lens of memory, Suss examines space, nostalgia, class, and the transporting nature of art and decorative objects.
Suss was born in 1980 in Philadelphia, Pennsylvania, where she is currently based. She received an MFA from the University of California, Berkeley, a BA from Williams College, and in 2013 attended the Skowhegan School of Painting and Sculpture. In addition to ICA Philadelphia, Suss' work has been exhibited at the Woodmere Art Museum, Philadelphia, Pennsylvania, the Berkeley Art Museum, California, and The Berman Museum at Ursinus College, Pennsylvania, as well as at storied Philadelphia artist collectives Vox Populi and Space 1026, of which she is a former member. Becky Suss, her first catalogue, was published in 2016 as an accompaniment to her recent exhibition at ICA Philadelphia. Her first solo exhibition with Jack Shainman Gallery was on view April 27 - June 3, 2017.
Related artists