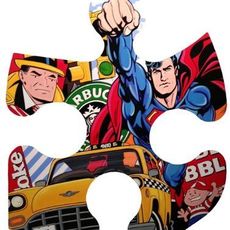 Bio
Born in Sept-Îles, Quebec in 1967, Boudro is a self-taught artist who feeds his painting, style and personal reflection by reaching into his diverse experiences in marketing and artistic/industrial design, and by calling on his mastery of oil painting, sculpture and printmaking techniques.
Boudro surprises us through the richness of his compositions and his passion for New York. With his own neo-pop style, he conveys an overflowing artistic dynamism. Through yellow cabs, vibrant colors full of energy, and a comic strip style, his works illustrate the feverish atmosphere that characterizes the Big Apple. Boudro expresses his passion through complex dense and detailed works that symbolize the movement, the wild rhythm of city life, the stress, the crowds. He creates perspective and depth, volume and color all interacting so as to express the chaos of the city, but always with a touch of humor. He places a strong emphasis on two media which have always been present in his work – advertising and the comic strip.
Recognized by his signature interpretation of the New York City yellow cab, Boudro's art consists mostly of the application of caricature, cartoon and the ubiquitous American pop-art style. He uses many post-modern techniques like collage and often refers to historic art movements such as the surrealists and the minimalists. His works are replete with Pop Culture icons and parodies publicity and advertising. His paintings are visually stimulating, joyful and playfully make a commentary on the world. The work is accessible without succumbing to superficiality.
Boudro lists Warhol, Haring, Lichtenstein, Rauschenberg and Rosenquist among his strongest influences and while his style artfully marries his pop roots to the surrealists and others through the use of unexpected juxtapositions and dreamlike compositions, he draws the viewer into his paintings in a playful manner.
Related Artists