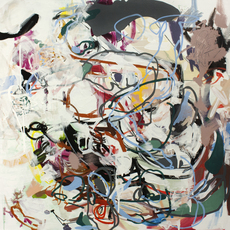 Carmen Neely
American, b. 1987
Bio
Carmen Neely's (b. 1987 in Charlotte, NC, US) shows us in her large scale paintings a visual language expressing said personal relationships. In fact, the titles of the works refer to extracts from significant conversations that provided the artist with an enlightened outlook on experience, relationships and what it means to be present in different aspects of life.
What Neely brings to the canvas is created from moods and memories that she intuitively presents in gestural abstraction. This is expressed in reworked areas of colour, fluid lines, scratches and dynamic, often type-like settings ranging from delicate contours to self-confident strokes reminiscent of graffiti. She integrates nontraditional objects, like thin linked chains adorned to the canvas, or childhood hair accessories woven onto the painted surface.
Carmen Neely's paintings clearly stand in the tradition of American painting and are reminiscent of art historical predecessors from Cy Twombly to Jean-Michel Basquiat. Her work marks a fresh and selfconfident position of a contemporary artist.
Related artists