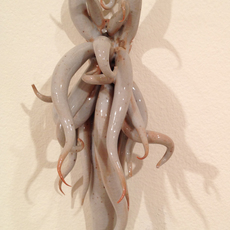 Christopher Adams
American, b. 1972
See all past shows and fair booths
Bio
Christopher Adams utilizes biological concepts - speciation, convergence, mimicry - as he creates ceramic works of organic abstraction. The sculptures suggest a variety of creatures, but not a specific organism. In the artist's wall-mounted sculptures, a pioneering organism has entered an untapped environment, differentiating rapidly without departing too dramatically from its original form. The sculptures of porcelain, terra cotta, and stoneware are fired over a wide range of temperatures with a variety of glazes. Adams is also a doctor, working as a part-time dermatologist, and in his art he plays with shiny, gnarly, and matte metallic finishes to evolve the skin surface of his creations.
Adams made his public debut at the Scope New York art fair in March 2006 to rave reviews and a sold-out booth. In reviewing the fair, Ken Johnson of The New York Times described Christopher's sculptures as "wonderfully delicate, spiky objects that look like specimens of underwater flora and fauna from another planet."
The artist's 2015 exhibition at Harvard University, Life or Something Like It, included 1,000 works. His Summer 2013 exhibition at Greenwich House Pottery (where Adams did a 10 month residency) also included a vast amount of work, installed floor to ceiling along a 25-foot wall.
Christopher Adams was born in Medford, MA. He graduated magna cum laude from Harvard College where he majored in organismic and evolutionary biology. In 2004 he graduated from Columbia University of Physicians and Surgeons. He has a dermatology practice in Boston.
Related artists