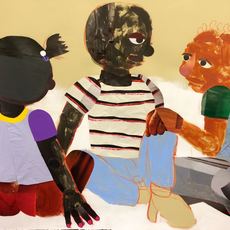 Clotilde Jiménez
American, b. 1990
See all past shows and fair booths
Bio
Clotilde Jiménez (b.1984 Honolulu, HI; based in Mexico City, México) sources in antique, modern, and contemporary art references to explore the limitations placed on the body in light of race, gender and sexuality. Collage allows him to tell several stories at the same time and to render his own lived experiences through an expansive archive of materials. Although the experience behind Jiménez's work is subjective, a level of universal symbolism is present, ultimately exploring rigid definitions placed on Black and queer bodies.
His colorful collage materials allude to Western culture through the reuse of everyday materials such as wallpaper, popular clothing brand names, magazine clippings and papers of Mexican craft. The materiality of charcoal allows the artist to construct statuesque marble-like figures that make reference to Greco-Roman sculpture, and the ways male beauty has been interpreted through the lens of a Western art historical cannon.
Jiménez has exhibited at The Mennello Museum of American Art, Orlando; Phillips, New York; the Slade School of Fine Art, London; and the Jacob Lawrence Gallery, Seattle. His work is featured in notable collections such as the Ford Foundation, Orlando Museum of art, Hessel Museum of Art, and the Beth Rubin DeWoody collection. He earned his MFA from The Slade School of Fine Art, and his BFA from the Cleveland Institute of Art.
Related artists