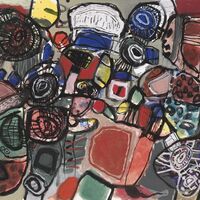 Corneille
Dutch, 1922–2010
Bio
Corneille (Guillaume Cornelis van Beverloo) (1922-2010) is the artist who truly knew how to celebrate womanhood, joy and all that is beautiful in life.
Guillaume Cornelis van Beverloo was born in 1922 in Liège, Belgium, to Dutch parents. After leaving school, he studied drawing at the Academy of Arts in Amsterdam from 1940 to 1943. As a painter, however, he was an autodidact. Together with Karel Appel, Asger Jorn, Dotremont and Constant, he founded the COBRA group in Paris 1948.
The works of Paul Klee and Joan Miró exerted a strong influence on Corneille and, like them, he too was inspired by African culture, with which he became well acquainted during several journeys to Africa. Initially his art was non-figurative, but he gradually turned to painting fantasy landscapes in warm tones, frequently characterised by symbiotic representations of female figures and birds. The woman represents beauty and voluptuousness, while the bird symbolises freedom and strength.
Corneille passed away in September 2010. He is represented in several museums in Europe, among others at Centre Georges Pompidou, au Musée d'Art moderna à Paris, à The COBRA Museum, Amstelveen, et à Stedelijk Museum, Amsterdam.
Related artists