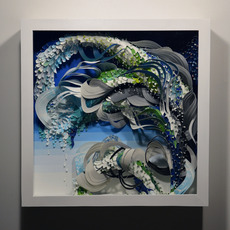 Crystal Wagner
American, b. 1982
See all past shows and fair booths
Bio
Crystal Wagner received her MFA from the University of Tennessee in 2008, her BFA from the Atlanta College of Art in 2004, and her AFA from Keystone College in 2002. She is represented by Hashimoto Contemporary, San Francisco, CA. After teaching as a college art professor for five years, Crystal left academia to focus exclusively on her studio practice.
Wagner's interest in combining 2-dimensional and 3-dimensional forms, alternative use of materials, and hybrid approaches to printmaking, and massive site-specific installations, have led to her artwork being exhibited extensively in the U.S and abroad. Her most recent commissions include a large-scale installation for the internationally recognized band The Flaming Lips. a large shadow box for GNU a snowboard company out of Portland, OR, a large-scale installation piece for NIKE, presented in the Shrine Auditorium for The KOBE X Blackout Experience, and most recently two installations for Viacom, one of which is a 117 ft piece at their headquarters in Times Square. It was featured by the New York Times and was broadcast on national television on VH1's Top 20 Countdown.
Currently you can find countless features on her work: New York Times, Architectural Digest, Artnet, Hi Fructose, Juxtapoze Magazine, Arrestedmotion.com, ArtAttacks Online, Art & Science Journal, Inspir3d.com, Complex Art & Design Magazine, Crome Yellow Magazine, Catapult Art Magazine, My Modern Met , Beautiful Decay Magazine and Dzinetripmagazine.com, many more. Recently he was the recipient of an Awesome Without Borders, Awesome Foundation Art Grant and the Sculpture and Installation Category Award Winner of the SEE.ME, Art Takes Paris, international art competition. In 2015 she was awarded the highly coveted Pollock-Krasner Grant.
Related artists