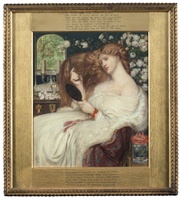 Fig 2. 'Of Adam's first wife, Lilith, it is told (The witch he loved before the gift of Eve,) That, ere the snake's, her sweet tongue could deceive, And her enchanted hair was the first gold. And stil...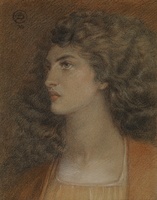 This strikingly beautiful portrait was last seen publically in 1959. It depicts the actress Louisa Ruth Maynard (1831-1921), daughter of a West Country brass-founder, who used the stage-name 'Miss Her...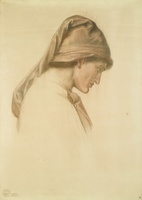 This drawing is one of the final studies made for Rossetti's monumental oil painting Dante's Dream at the Time of the Death of Beatrice completed in 1874 (Walker Art Gallery, Liverpool) depicting a sc...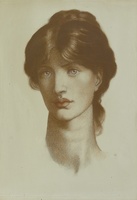 Around 1881 Rossetti's studio assistant Henry Treffry Dunn painted a fascinating watercolour of the studio at Tudor House on Cheyne Walk which shows two of Rossetti's last paintings The Salutation of ...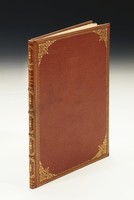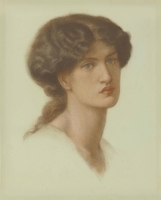 Portrait of Jane Morris, bust-length,1828-1882
50.1 x 40.3 cm
Dante Gabriel Rossetti (1828-1882) Portrait of Jane Morris, bust-length coloured chalks on light green paper 19 ¾ x 15 7/8 in. (50.1 x 40.3 cm.) in the original Foord and Dickinson frame designed ...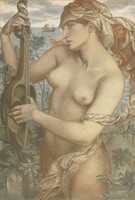 Ligeia Siren,1873
82.3 x 54.7 cm
Dante Gabriel Rossetti (1828-1882) Ligeia Siren signed with monogram and dated '1873' (lower right) and inscribed 'LIGEIA SIREN' (upper right) pencil and coloured chalks on paper, extended along th...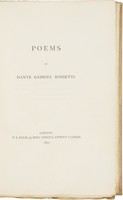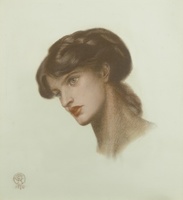 'For the ladies holding the suspended veil momentarily ere it covers the form & features of Beatrice, Marie Spartali the daughter of the Greek Consul for London was one. She possessed a face super...
Sotheby's
December 17, 2015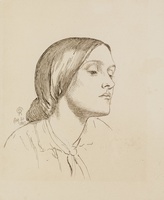 Maria Margaret ("Minnie") La Primaudaye (1838-1919) was the daughter of Rev. Charles La Primaudaye. In 1855 she married the artist, architect and connoisseur John Hungerford Pollen (1820-1902) with wh...