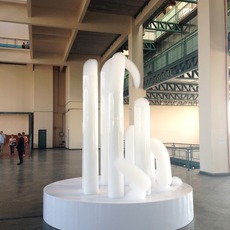 David Medalla
Filipino, b. 1942
Established representation
Represented by industry leading galleries.
Bio
David Medalla is a Filipino international artist. His work ranges from sculpture and kinetic art to painting,
installation and performance art. He lives and works in London, New York City and Paris. Medalla
was born in Manila, the Philippines, in 1942. At the age of 12 he was admitted at Columbia University in New York upon the recommendation of American poet Mark van Doren, and he studied ancient Greek drama with Moses Hadas, modern drama with Eric Bentley, modern literature with Lionel Trilling, modern philosophy with John Randall and attended the poetry workshops of Léonie Adams. In the 1960s in Paris, the French philosopher Gaston Bachelard introduced his performance 'Brother of Isidora' at the Academy of Raymond Duncan, later, Louis Aragon would introduce another performance and finally, Marcel Duchamp honoured him with a 'medallic' object. In a partly-edited Signals Newsbulletin by schoolchildren, David Medalla supposedly prepared a special supplement on kinetic Christmas carols.
Related artists