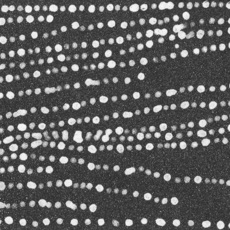 Dorothy Napangardi
Australian Aboriginal, 1956–2013
See all past shows and fair booths
Bio
Dorothy Napangardi is a Warlpiri woman from the Tanami desert. Prior to her passing in 2013 she lived and painted in Yuendumu.
Dorothy's early works featured the bush food found in the Western Desert such as bush plums and bush banana, depicted in vibrant colours and designs, similar in style to many of the other women painting with her.
In the late 1990's she revisited her birth place and subsequently focused more on stories handed down from her relatives on her father's side. She began using a more subtle palate and the demand for her black and white monochromatic representations of sand hills of Mina Mina grew.
These paintings are both a topographic map of a particular landscape and a depiction of the places ancestors traveled in the desert.
In 2002 the Museum of Contemporary Art had a major exhibition of her work, "A dance through the desert; Dancing up Country".
Information sourced from
'A dance through the desert', Dancing Up Country: The Art of Dorothy Napangardi, exh. cat., Museum of Contemporary Art, Sydney, 2002,
Related artists