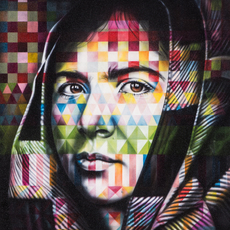 Eduardo Kobra
Brazilian, b. 1975
See all past shows and fair booths
Bio
Born in 1975 in Jardim Martinica, Eduardo Kobra is notable for painting murals usually depicting portraits with a kaleidoscope theme, bright colors and bold lines.
Over the past 30 years, Kobra has mastered his craft, worked tirelessly, and created over 500 monumental murals around the globe. These murals can be readily seen in over 40 countries, on 5 continents and in countless cities including Spain, Italy, Norway, England, Malawi, India, Japan, United Arab Emirates, New York City, Chicago, Los Angeles, and Miami.
Kobra: Larger Than Life is a exhibition of 31 original paintings, many of which are recreations and tributes to his monumental murals. Each piece is a one of a kind original work and most of the paintings have never been seen before.
Related artists