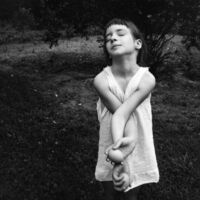 Emmet Gowin
American, b. 1941
Blue-chip representation
Represented by internationally reputable galleries.
Career highlights
Solo show at a major institution
MCA Chicago
Collected by a major institution
Museum of Modern Art (MoMA)
Reviewed by a major art publication
Artforum
Included in a major biennial
Fotofest International
See all past shows and fair booths
Bio
Emmet Gowin (b. 1941, Danville, Va.) received a BFA in Graphic Design from the Richmond Professional Institute (now Virginia Commonwealth University) in 1965 and an MFA in Photography from the Rhode Island School of Design in 1967.
While at RISD, Gowin studied with photographer Harry Callahan who became one of his mentors and greatest influences. Following his marriage to Edith Morris in 1964, Gowin began making memorable portraits of her as well as of his family members. In addition to his work in portraiture, Gowin has explored landscape and aerial photography since the 1980s, documenting sites in the Czech Republic, Mexico, the Middle East, Japan, and the United States. A recent series addresses the global impact of pivot irrigation, natural resource mining, and military occupation and weapons testing on the environment.
Gowin's work can be found in museum collections in the U.S. and abroad, including the Art Institute of Chicago; the Cleveland Museum of Art; the J. Paul Getty Museum, Los Angeles; the Maison Européenne de la Photographie, Paris; the Metropolitan Museum of Art, New York; the Museum of Modern Art, New York; the Philadelphia Museum of Art; the Tokyo Museum of Art; and the Yale University Art Gallery, New Haven, Conn.
Related artists