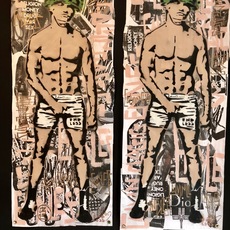 Established representation
Represented by industry leading galleries.
Bio
London based, UK.
Highly regarded in the street-art world, Endless is perhaps one of the most (in)famous street-artists today. Starting out using the walls of London as his canvas, Endless' reputation has risen to capture the attention of its residents, foreign visitors and the media alike.
Provocative and radical on his creation, Endless
tells a story of our world giving an honest and philosophical description of our surroundings exploring aspects of fashion, advertising and the filth of modern cultures. The narrative of the works is neither positive or negative in their outcome, letting the viewer explore the variety of hidden messages and interact with the playful and alluring opulent aesthetic.
The artist also made a mark into the world of fashion in 2019, collaborating with high profile brands like Karl Lagerfeld for the launch of their SS20 collections at Pitti Uomo and The Tribute to Karl: The White Shirt Project; and Fiorucci to launch a capsule collection of clothing and skateboard decks.
His last collaboration involved Karl Lagerfeld again: after the fashion icon's death, Endless collaborated with the brand in the launch of a new capsule collection presented at Karl Lagerfeld's store in London and the exhibition Endless Karl at the Cris Contini Contemporary gallery in London.
Related artists