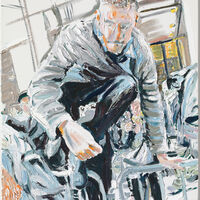 Erik Schmidt
German, b. 1968
Established representation
Represented by industry leading galleries.
Bio
German artist Erik Schmidt creates works that engage with symbolic processes within various social subsystems. Immersing himself in foreign contexts plays a significant role in his paintings, videos, photographs, and drawings. Throughout his work, Schmidt continues to consciously adopt the figure of the outsider, whether in the crowded urban landscape of Tokyo, the camps of the American Occupy movement, among wine and olive producers in the West Bank or the aristocratic hunting circles of his native North Rhine-Westphalia. This removed stance offers him a distinct insight into group dynamics and the various clichés, stereotypes, codes, rituals, norms, patterns and conventions they all hold.
Erik Schmidt (b. 1968, Herford) lives and works in Berlin. He has participated in group and solo exhibitions at institutions such as Kunsthalle Hamburg, Hamburg; Hamburger Bahnhof, Berlin; Artists Space, New York; MARTa Herford, Herford; Museum Morsbroich, Leverkusen; KW Institute for Contemporary Art, Berlin; Matsumoto City Museum of Art, Matsumoto; Museum der Moderne, Salzburg; and the Museo Reina Sofía, Madrid.
Related artists