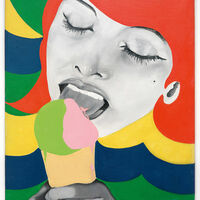 Evelyne Axell
Belgian, 1935–1972
Blue-chip representation
Represented by internationally reputable galleries.
Bio
After studying pottery at the Namur School of Art in 1953, Axell switched to drama and began a successful career as an actress starring in several films. Her film director husband, Jean Antoine, specialised in art documentaries introducing her to the Belgian avant-garde and many of the English Pop artists including Allen Jones, Pauline Boty, Peter Blake and Patrick Caulfield. In 1964 Axell quit her promising acting career to pursue painting, enlisting family friend René Magritte to be her artistic mentor, and created her own unique style of Pop art.
Colourful, provocatively erotic imagery depicting unashamedly naked women express a desire for female freedom both sexually and politically. Axell's early Erotomobile series combines the naked female form with the manufactured masculine object to create literally, an Erotomobile.
Axell evolved a ground-breaking signature technique of cutting female silhouettes into translucent plastic sheets painted with enamel. Along with her contemporaries Rosalind Drexler and Pauline Boty, Axell critiqued the male gaze and challenged the existing concepts of female sexuality, further explored in her Happenings. In 1967, she had her first solo exhibition at the Palais des Beaux-Arts in Brussels and won the Young Belgian Painters Prize in 1969.
In only the seven years she worked until her tragic death in 1972, Axell became a pioneer of Pop art with many exhibitions worldwide, finding new recognition in the 2015 exhibitions The World Goes Pop at Tate Modern, London, and International Pop, Walker Art Center, Minneapolis and Dallas Museum of Art, USA. A major solo exhibition was recently held at the Maison de la Culture de Namur, Belgium in 2019 which included Erotomobile III.
Related artists