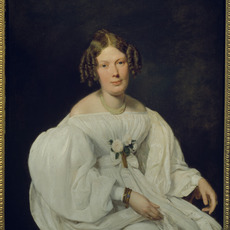 Ferdinand Georg Waldmüller
Austrian, 1816–1885
Career highlights
Collected by a major institution
National Gallery of Art, Washington, D.C.
Included in a major biennial
Venice Biennale International Exhibition
See all past shows and fair booths
Bio
Ferdinand Georg Waldmüller (1793 1865) is considered the most important Austrian artist of the 19th century. On the one hand, he produced outstanding works in the artistic disciplines prevalent at the time portraiture, landscape, still life, and genre painting and, on the other hand, he was always, throughout his life, in search of accomplishment, striding new paths that led the way into the future. Frequently misunderstood as a painter of Biedermeier idylls, Waldmüller, like most of his Austrian contemporaries, had attended the Vienna Academy of Fine Arts and modelled his painting technique on that of the Old Masters, yet in his later years sharply criticised the Academy's teaching methods. With some of his most fascinating works dating from after 1848, Waldmüller's career went far beyond the Biedermeier period. If his painting was initially still betrayed Neo-Classicist traits, it became increasingly realistic over time. As one of the major practitioners of a meticulous description of reality, he focused on light as the central subject of his late work. By the end of his life, Historicism had overtaken Ferdinand Georg Waldmüller and his art. In 1865, the year of his death, the Ringstraße was opened, with buildings along the boulevard erected in the Historicist style and their interiors decorated accordingly. As a parallel development, a new type of landscape painting emerged, which in Austria was referred to as "Atmospheric Impressionism". After his death, Waldmüller fell into oblivion for several decades. Yet the interest in his art was revived around 1900, when the Secessionists recognised him as a precursor and pioneer of their approach to art.
Related artists