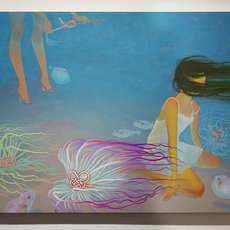 Fuco Ueda
Japanese, b. 1979
See all past shows and fair booths
Bio
Born in Japan in Yokohama 1979, Fuco Ueda graduated from the Tokyo Polytechnic University of Arts Graduate School in 2003. Her paintings made with acrylics, powdered mineral pigments on paper, cloth, and wood, were influenced by literature, Japanese female manga artists, and other artists like Yoshitomo Nara and Kawashima.
Ueda's delicate paintings reveal the same subtle iconography of the ancient Ukiyo's "floating world", while they narrate about the beauty of this life and the after death and the way they harmoniously coexist in our life. Ueda's mature, impressive figures float in a boundless limb, where time stops streaming, fixed in the vibrantly coloured atmosphere of eternal stillness, and space loses its consistence. Surrounded by a fluorescent flora and fauna, they remain impassive, their gaze frozen into the stillness of a memory while they try to communicate with us. They are the only mediators, the guardians allowed to lie on the suitable line of nowhere; they want to take our hand to reveal us the magic of a world existing beyond reality.
-from "Pages of Mind Travellers Diaries", 2017.
Related artists