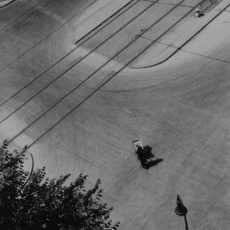 Gyorgy Kepes
Hungarian, 1906–2001
Bio
Gyorgy Kepes was a Hungarian-born American artist best known for his photographs, paintings, designs, and theoretical texts.
Born on October 4, 1906 in Selyp, Hungary, he went on to study at the Royal Academy of Fine Arts in Budapest under the painter Istvan Csók. In 1930, Kepes moved to Berlin, where he studied design, film, and theory with László Moholy-Nagy. He then moved to Cambridge, MA in 1947, accepting a post at the Massachusetts Institute of Technology to start their visual studies program. He worked with artists and architects, including Marcel Breuer and Walter Gropius, and became increasingly interested in visual theory and technology, studying devices that captured unseen images like x-ray machines, electron microscopes, sonar, and radar.
Kepes' works can be found in the collections of the Art Institute of Chicago, The Museum of Modern Art in New York, the National Gallery of Art in Washington, D.C., and the Tate Gallery in London, among others. He died on December 29, 2001 in Cambridge, MA.