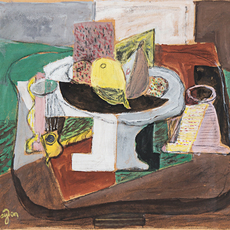 Henri Hayden
Polish, 1883–1970
Bio
Henri Hayden was born in a family of wine merchants. In 1902, under parental pressure, he entered the Polytechnic School of Warsaw ; at the same time, he entered the Academy of Fine Arts of Warsaw where he was soon perceived as a brilliant student. Thanks to the financial support of his father, he spent a year in Paris in 1907, the year Picasso produced the "Demoiselles d'Avignon", and would never come back to Poland.
Hayden worked in a studio on Boulevard Saint-Michel and lived a solitary and independent life. In 1908, he spent some time at the Académie de la Palette where Charles Guérin and Georges Devaslière were teaching. At first, he was influenced by Gauguin whom he discovered through Wladyslaw Slewinski during his frequent stays in Britany. In Montparnasse, he met the leading players of the Cubist movement, notably Juan Gris, Pablo Picasso, Jacques Lipchitz and Jean Metzinger.
Hayden regularly held shows. The constructed and synthetic landscapes that he painted echoed the School of Pont-Aven. In 1912, Hayden found a support in the solid and careful art of Cézanne which would lead him to Cubism. In 1914, he signed a contract with the art dealer Léonce Rosenberg and then Charles Malpel.
Passionate about music, he spent time with the "Groupe des Six" and illustrated, for Erik Satie, the program of the first audition of "Morceaux en forme de poire".
During the war, he hid first in Mougins, where he met Robert Delaunay, and then in Roussillon d'Apt where he made friends with Samuel Beckett. In 1944, back in Paris, Hayden found his studio plundered.
During the last twenty years of his life, Hayden's painting would be the center of many shows around Paris, Dublin, Caen, Amiens and Aix-en-Provence.
In 1953, Hayden released himself from all the influences that haunted his painting and became a figurative painter.
Related artists