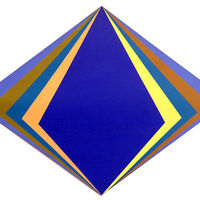 Hercules Barsotti
Brazilian, 1914–2010
Bio
Painter, draftsman and visual programmer, Barsotti was an icon of the Neoconcretist group of artists founded by the poet Ferreira Gullar in the late 1950's. Neoconcretism was a reaction to the concretist movement and its technical-scientific theories applied to art.
Still in the 1950s, Barsotti founded with the sculptor Willys de Castro the Graphical Projects Studio, which renewed the graphic language. In 1960 he was invited by the Swiss designer Max Bill to participate in the Konkrete Kunst show in Zurich, one of the most prestigious in the area.
In Brazil, Barsotti participated in several Biennials and in the editions from 1987 to 1989, was honored with special shows. Throughout his career, Barsotti has participated in numerous international exhibitions in Europe and the United States.
In 2004, when he turned 90, the Museum of Modern Art of São Paulo made a retrospective of his works Barsotti.
Related artists