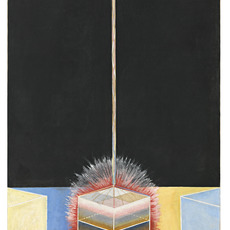 Hilma af Klint
Swedish, 1862–1944
Bio
The Swedish artist Hilma af Klint (1862-1944) was at the leading edge of the development of abstract art in the first decade of the twentieth century. She made her first abstract paintings as early as 1906, but she never exhibited the pioneering pictures. She wrote in her will that at least twenty years must pass after her death before the pictures could be shown in public. Only then would time be ripe, she thought.
The driving force behind Hilma af Klint's work is the conviction that there is a spiritual dimension to existence. With painting as her tool she sought insight into a higher coherence behind the visible world. The pictures are structured in series and are characterized by their systematic approach to the exploration of the spiritual.
Hilma af Klint was inspired by a number of spiritually searching and experimental currents in her time, for example spiritualism, Theosophy and later Anthroposophy. She shared her interest for metaphysical matters with many other thinkers, authors, musicians and artists of the period, including the better known pioneers of abstract art – Wassily Kandinsky, Kazimir Malevich, František Kupka and Piet Mondrian.
She trained at the Royal Swedish Academy of Fine Arts in naturalistic landscape and portrait painting, but alongside her activities in these genres she experimented with contacting higher consciousnesses and planes of reality.
As a result of this she changed course artistically: at the age of 44 she began painting abstract and symbolic pictures. Pictures of universal connections and structures that she saw beyond the visible world. The central work is a large suite that she called The Paintings for the Temple.
Pure abstraction is not an end in itself in Hilma af Klint's work. The abstractions can rather be seen as visual representations of the invisible, universal forces which she believed connected the material and the spiritual world.
Related Artists