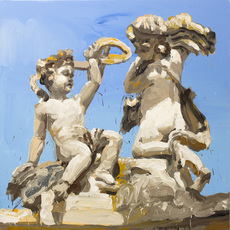 Jan De Vliegher
Belgian, b. 1964
See all past shows and fair booths
Bio
Sourcing material and landscapes from regions near his home in Belgium, Jan De Vliegher creates each work after months of in situ research and photographic studies. Completed in one sitting, with no room for error, the process draws upon the gestural history of abstract expressionism. His vigorous brushwork style, working alla prima, wet paint on wet paint, achieves a sense of vitalized reality, a moment in transition, where colour and composition take precedent.
The subject matter of De Vliegher's plates speak of contemporary collecting as he presents collectibles, the often overlooked artefacts of museums, and exalts them. Set against a neutral background, the plates become secondary as the circular shape takes prominence—colour and composition convey the artist's mastery, while an abstracted form and drip-marks transform the otherwise ornate quality of a porcelain plate. In his idiosyncratic, expressive representation of the painted medallions, De Vliegher rejects the fragility of the plates' perfectly polished appearance and creates a new object to revere.
Jan De Vliegher has exhibited extensively internationally in America, Belgium, Italy, and Sweden, Germany as well as his solo show at Gow Langsford Gallery in March 2014.
Related artists