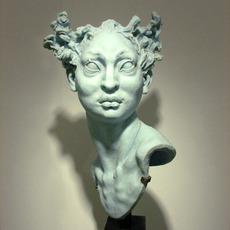 Javier Marin
Mexican, b. 1962
Bio
A Mexican artist, born in Uruapan Michoacán (1962), with an active career surpassing thirty years, Javier Marin has exhibited individually on more than ninety occasions and has participated in more than two hundred collective exhibitions in Mexico, the US, and Canada, as well as in various countries in Central America, South America, Asia, and Europe.
Javier Marin's work revolves around the human body as an integral entity, engaging analysis in the creative process based on the construction and deconstruction of three-dimensional forms. Although sculpture has been his focal point, he now includes drawing and photography as core disciplines. Some of his exhibitions have been displayed in venues such as the Pinacoteca Comunale Casa Rusca, in Locarno, Switzerland (2016); Museo d'Arte Contemporanea Roma Testaccio, in Rome (2013–2014); Les Musées royaux des Beaux-Arts de Belgique, in Brussels (2010); Museo di Palazzo Reale, in Milan (2008–2009); Bass Museum of Art, in Miami Beach (2006–2007); Museo Colonial and Museo Santa Clara, both in Bogota (2006); Museo de Arte Contemporáneo de Oaxaca (2006); Museo Amparo, in Puebla (2005); Espace Pierre Cardin, in Paris (2000); Museo del Palacio de Bellas Artes, in Mexico City (1996); Museo de Arte Contemporáneo, in Monterrey, Mexico (1993); and Museo de Arte Álvar y Carmen T. de Carrillo Gil, in Mexico City (1990), among many others. A revision of the thirty years of his career was presented in the exhibitions Corpus and Terra showcased in two venues: the Antiguo Colegio de San Ildefonso and the Palacio de Iturbide, in Mexico City (2015–2016).
His work is in major public and private collections in Mexico and abroad, including: the Museo de Arte Moderno and Museo de la Secretaría de Hacienda y Crédito Público, in Mexico City; Museo de Arte Contemporáneo in Monterrey; Museo del Barro, in Caracas; Santa Barbara Museum of Art, in California; Museum of Fine Arts, in Boston & Boca Raton Museum of Art and Latin American Museum.
Related artists