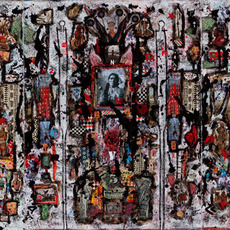 Jean-Daniel Rohrer
Canadian, b. 1960
See all past shows and fair booths
Bio
Jean Daniel Rohrer was born in Switzerland in 1960, and immigrated to Canada in 1989, making Montreal his home.
Rohrer's works can be found in many collections around the world, including his painting Ville de Paix on display in the Montreal's City Hall. In 2010 Rohrer's sculpture L'Homme de la Paix was donated to de city of Hiroshima in Japan. It is now permanently displayed in Hiroshima's Palace of Congress.
In 2017, Rohrer was received as a member of the Canadian royal Academy of art (RCA) and an art book was published for this occasion by Robert Bernier celebrating Rohrer's last 20 years of work.
Jean-Daniel Rohrer's plastic language stems from the graphic universe; the timeless chronicle and the pictorial tradition, through a distinctive research on the treatment of matter. Painting, collage, pastel, stenciled letters and numbers, mixing fragments of images and photos, signs, graphics, and ideograms are rippling. From this structural complexity emerges an original work with a contrasting character.
Jean-Daniel Rohrer's work is like a memory aid, it is never fixed in a precise temporality. Rather, the artist plays on the ambiguity of memory and history - our collective memory. By radiating from the heart of his paintings, he gradually creates surfaces potentially charged with meaning.