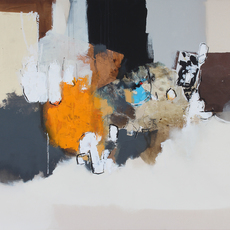 Jean-Francois Provost
Canadian, b. 1976
See all past shows and fair booths
Bio
Jean-François Provost's painting, described by some as lyrical abstraction or Plasticien, has evolved in a series of works exploring specific formalist concerns. Drawing, for him a gestural manifestation of the subconscious, plays a decisive role in the composition of his canvases.
Of his artworks, Provost states:
"…Since 2007, [I have] been exploring pictorial space in [my] work in a process of constant refinement. My approach to both drawing and painting goes far beyond straightforward execution. The drawings, in India ink, graphite, and red chalk, are produced in a stream of consciousness and are then cut out. Paradoxically, they become the embryo of a work that is constructed using a highly studied and rational approach that follows the logic of my investigation of space and its simplification. My work is mainly based on the study of composition in terms of line, depth, relationships between masses, gestures, and trompe-l'oeil."
Born in 1976, Ottawa, Jean-François Provost received his BACC in Visual Arts at the Université du Québec in Outaouais. Provost has exhibited throughout Canada and in Europe.
Related artists