Jean-Léon Gérôme
French , 1824-1904
364 followers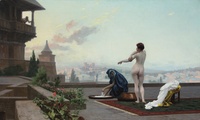 'And it came to pass in an eveningtide, that David arose from his bed, and walked upon the roof of the king's house, and from the roof he saw a woman washing herself; and the woman was very beautiful ...
Gérôme's wondrous Néo-grec fantasy, King Candaules, had a well deserved success at the Salon of 1859.  Probably by request of his dealer Goupil, the artist painted a second version, which would be cla...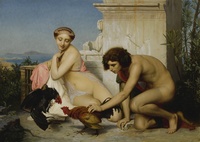 Though best known as an Orientalist artist, Jean-Léon Gérôme began his career as a leader of a group of young painters studying in Paris with Charles Gleyre and Paul Delaroche.  Inspired by Greek art ...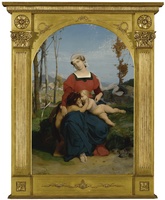 La Vierge, L'Enfant Jesus et Saint Jean was completed in the months leading up to the June Days and the Proclamation of the Second Republic in 1848, and was one of three entries that a young Jean-Léon...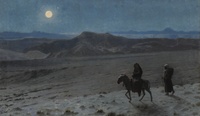 Jean-Léon Gérôme found enormous success ever since his first 1847 debut at the Salon with Le Combat de Coqs (Musée d' Orsay, Paris, see lot 4), which brought him and his fellow Néo-Grecs, as they were...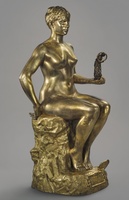 In December 1870, archaeologists unearthed a group of Hellenistic terracotta funerary figurines bearing large traces of original polychrome at a site called Tanagra in Boetia, modern day Greece.  This...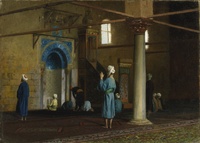 Gérôme was a frequent visitor to Cairo, first visiting the Mosque of Qaytbay in 1868. Scenes like the present are expressions at once of his admiration for Muslim piety and his fascination with Islami...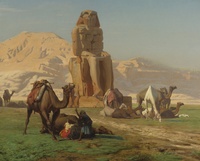 The Colossi of Memnon have stood guard at the ancient necropolis of Thebes since 1350 BC. Standing at a towering height of 18 meters, they were intentionally imposing and would have made a powerful im...
Sotheby's
November 22, 2016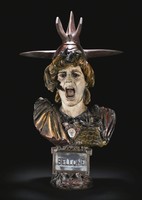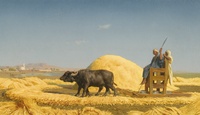 In the same family for over a century and unseen in public since the 1860s, the present work is a significant rediscovery, and a landmark work in Gérôme's Orientalist œuvre. According to Gerald Ackerm...